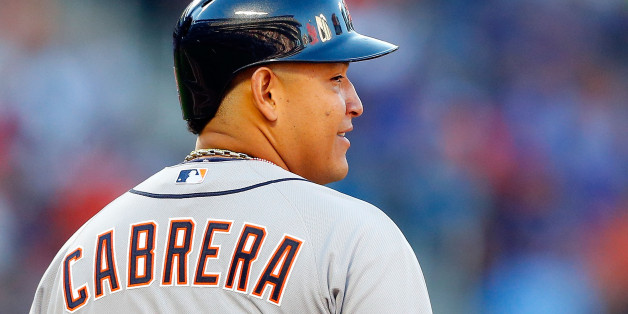 The specter of Miguel Cabrera completing an unfathomable baseball feat, winning back-to-back batting triple crowns, might be fading now, but the Venezuelan slugger will probably finish the 2013 season with another monumental achievement.
The 30-year-old Venezuelan slugger can string together three batting crowns, a distinction reserved for baseball immortals. Only eight men have been able to do this, and they are all in the Hall of Fame. Tony Gwynn was the last to string a troika of titles, preceded by Rod Carew, Wade Boggs, Stan Musial, Ty Cobb, and Rogers Hornsby. Honus Wagner was the first to string together the titles, from 1906-09.
August immortals in the game, not Ted Williams, Joe DiMaggio, Roberto Clemente, Pete Rose, or Willie Mays have been able to achieve this. Panamanian-born Rod Carew might have strung together seven batting titles, from 1972-75 and 1977-78, had his streak not been interrupted by George Brett in 1976.
Even without another coronation, and as he returns from a series of nagging injuries, the Tigers' third baseman season is superlative.
Miguel Cabrera chasing Chris Brown
Cabrera is hitting .350 with 44 home runs and 132 RBI. Cabrera trails, and it is unlikely he will catch, Baltimore Orioles slugger Chris Brown in the home run department (52).
Miguel Cabrera leads the batting title race with a .350 average, followed by Colorado's Cuddyer with a .337 mark. Ironically, he might better the figures attained in 2012, when he hit .330, 44 HRs, and 139 RBIs.
Before Cabrera attained the batting Triple Crown in 2012, the last to win the Triple Crown of batting was Carl Yastrzemski with the Boston Red Sox in 1967.
"I saw him when he was young in Venezuela, and I thought he was big for a shortstop, but he could hit," said Latin baseball expert Milton Jamail, who now works for the Tampa Bay Rays helping Latin players transition to life in the United States. Miguel Cabrera's stature has grown exponentially since then. "If he had won another Triple Crown, I can't even imagine what kind of contract that would bring."
Detroit has won the last three American League Central titles.
Two benchmarks highlight the arc of Cabrera's sustained excellence. This weekend, Cabrera returns to South Florida to play the Marlins, his first Major League team. On Monday, Yaz had a statue unveiled at Fenway Park. The Venezuelan-born Miguel Cabrera may not have to wait much longer to see his feats immortalized.
Originally published on VOXXI as Even if he falls short, Miguel Cabrera's feats already immortal

BEFORE YOU GO
PHOTO GALLERY
The Greatest Latino Baseball Players Of All Time