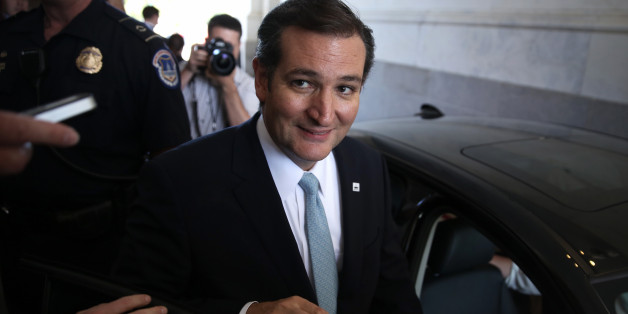 As U.S. Sen. Ted Cruz (R-Texas) took the national spotlight with a 21-hour faux filibuster from Wednesday to Thursday, Twitters revisited the old theme of the senator's ethnicity.
The hashtag #CruzIsAsLatinoAs appeared, with many poking fun at the light-skinned politician's heritage.
We've pointed this out several times: Cruz, the son of a Cuban immigrant and a non-Hispanic American mother, is every bit as Latino as any other person of Latin American heritage who chooses to identify that way. Latino is not a race, and it's certainly not a political ideology. In fact, anyone familiar with Cuban-American politics in South Florida would recognize Cruz's ideas as representative of a large chunk of the 1960s exile group.
Not everyone's convinced. Twitters users jumped on the hashtag to hurl a steady stream of slights at Cruz.
#TedCruzIsAsLatinoAs Mitt Romney's dad.

— Gabe Ortíz (@TUSK81) September 25, 2013
#TedCruzIsAsLatinoAs My organic hummus from Trader's Joe

— Winston Rivas (@WinnifredRivas) September 25, 2013
#TedCruzIsAsLatinoAs as a Canadian Ted Cruz... oh, whoops.

— Pedro Rios (@Pedroconsafos) September 25, 2013
#TedCruzIsAsLatinoAs Will Ferrell in "Casa de mi padre"

— Diego Fonseca (@DiegoFonsecaDC) September 25, 2013
#TedCruzIsAsLatinoAs Shredded Mexican Cheese Blend

— Undocumented Citizen (@UndocumentedCit) September 25, 2013
#TedCruzIsAsLatinoAs George Zimmerman

— Andru S L (@TeacherAndru) September 25, 2013
#TedCruzIsAsLatinoAs hard shelled tacos 😒

— Quiet Overlord (@ElizabethVarg46) September 25, 2013
#TedCruzIsAsLatinoAs mayonnaise.

— Latino Rebels (@latinorebels) September 25, 2013
But it wasn't just the haters who jumped on the #TedCruzIsAsLatinoAs bandwagon. Others turned the hashtag on its head, or used it to make more nuanced point.
#TedCruzIsAsLatinoAs Any Other Latino http://t.co/PSJ76udibH

— Tomas Custer (@hispanictips) September 26, 2013
Peruvian writer and Executive Producer of Radioambulante Daniel Alarcón chimed in with:
Mystified by #TedCruzIsAsLatinoAs. Check the craven, corrupt & opportunistic politicos in the countries we hail from. TC fits right in.

— Daniel Alarcon (@DanielGAlarcon) September 25, 2013
Cruz has faced attacks on his Latinidad since hitting the campaign trail for his Senate seat. The Texas Democratic Party Chairman Gilberto Hinojosa told the Houston Chronicle last year that Ted Cruz was "as much Hispanic" as Tom Cruise. In May, former New Mexico Gov. Bill Richardson said Cruz shouldn't be defined as Hispanic because of his politics.
BEFORE YOU GO
PHOTO GALLERY
Dumbest Commentary About Latinos In 2012