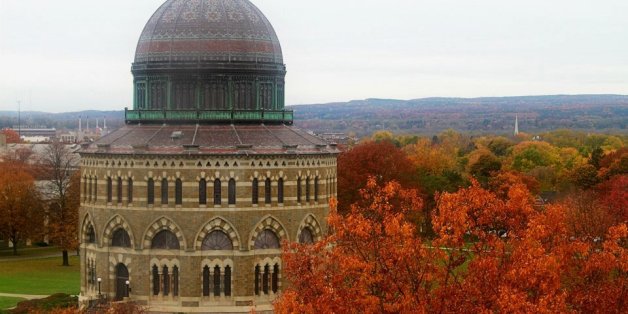 Union College is working with a national sorority to investigate hazing claims against a campus chapter after a graduate of the school wrote in Cosmopolitan magazine that she was glad her house hazed her when she pledged.
"We don't tolerate hazing at Union," college spokesman Phillip Wajda told Inside Higher Ed. "The column references incidents that allegedly took place three years ago and we are working with the national chapter of Sigma Delta Tau to review the claims."
Tess Koman, a 2013 graduate of the Schenectady, N.Y. college, described blindfolding, ridiculing and scolding at the hands of her Sigma Delta Tau sisters. Pledges were ordered to do their "sexiest dance" and at some points were locked in rooms, according to the article.
Koman wrote:
In hindsight, I realize there was a lot of crying. I cried when I didn't know where Sister Jen was when I was asked in front of everyone on the spot. I cried when I had to share one toilet with 42 other girls in the basement of the house when we weren't allowed to leave. I cried when I was told I wasn't nearly as cute as I thought I was. We were soon all given pledge names. These were meant to be either condescending or reflective of something we had done on campus. Some of them were just ridiculous and the whole point was to torment yourself wondering why you were called that in the first place. I even cried for no good reason when I found out Kate White was my pledge name.
Koman wrote about how the sisters made her "feel pretty terrible," but later said she "adored bossing around the incoming pledges."
Hazing is a violation of both New York state law and Union College policy.
Dean of Students Stephen Leavitt told Concordiensis, the student newspaper, that Union will be unable to discipline anyone involved in the hazing during Koman's collegiate career because, "The women she is speaking of are no longer at Union." However, Leavitt did send a campus-wide email following the article, declaring "Union does not tolerate hazing in any form."
Sigma Delta Tau national Executive Director Debbie Snyder told Concordiensis they still plan to investigate the claims.
Union Attorney Charles Assini warned that even if the college can't punish students, there may be legal ramifications.
"It is possible that a local chapter and involved individuals in a hazing incident could be named in civil litigation and possibly cast in liability depending upon the nature of the acts and damages in any particular case," Assini told Concordiensis.
BEFORE YOU GO
PHOTO GALLERY
The Biggest Colleges For Greek Life: Princeton Review 2013-14