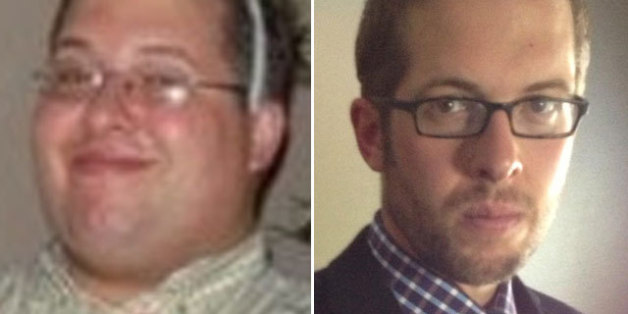 Got a success story of your own? Send it to us at success.stories@huffingtonpost.com and you could be featured on the site!
Name: Tim Bauer
Age: 33
Height: 6'4"
Before Weight: 440 pounds
How I Gained It: I was obese for as long as I can remember. By fifth grade, I topped 100 pounds at below-average height. I ballooned up to 440 pounds after being married and getting comfortable with life and complacent about my health.
Food was my release. It was my dearest friend. It never judged me or laughed at me, and it was there for everything. When I was happy, I'd celebrate with pizza. Sad? Drown it in nacho cheese. Worried? The crunch of Doritos can cure that. Stressed? That's nothing a pint or two of Ben & Jerry's couldn't cure. Angry? Take it out on a burrito.
By 2011, I had sleep apnea and GERD. I was borderline diabetic. Every male member of my family was obese and/or had suffered from heart disease. I came from a long line of lifestyle-related illnesses, and I was destined to repeat history.
I leave for work at about 5 a.m., and I used to stop by a Mexican drive-thru on the way to the freeway. I'd fuel up with a chicken burrito, chicken soft taco, large fries and a large soda. I'd hit a grocery store around mid-morning and grab two bagels and a Danish along with more soda. I'd get fast food for lunch and a snack before going home for dinner. I estimated my daily caloric intake to be between 5,000 and 6,000 calories. I was spiraling toward every obesity-related illness known to man.
I wondered if I would ever get to see my two beautiful daughters grow up, graduate, have children of their own.
Breaking Point: My marriage was rapidly deteriorating. I felt like losing weight would solve everything. Maybe she would be attracted to me, pay attention to me and maybe even love me again.
I stumbled across an inspiring story on Reddit that actually made me go out that morning and walk around the block I came back in and thought I was going to have a heart attack, that's how out of shape I was. I felt like I almost died, but the most important fact was this one: I didn't. I lived, and for me that proved that I could probably do it again tomorrow -- and I wouldn't die then either.
How I Lost It: I attempted to eat healthier as best I understood at the time. I tried to avoid sugary and fried foods and white carbs. It wasn't scientific, but it was a little change to prime me for big changes. Eventually I consulted a friend who had a nutrition degree who helped write up a meal plan for me. My friend started building a dream in my mind. He told me: "If you stick with this, by Christmas next year, you could be down 100 pounds."
I wish I'd known then that he was completely wrong. One year and nine days after I started, I found myself exactly 200 pounds lower than the day I'd started.
I ate egg white omelets for breakfast with spinach, spices, garlic, avocado -- whatever I was in the mood for. Lunch was five to seven ounces of meat with steamed green vegetables of some sort. Dinner was usually the same. My snacks were raw veggies, almonds, pistachios, fruit and sweet potatoes, and I still allowed myself coffee, either black or sweetened with Stevia.
I brought my food with me everywhere. I always had a lunch box filled with raw celery and carrots to gnaw on if I found myself twitching with a craving for a bag of chips.
I started studying up on nutrition and fitness as much as I could online, and I adopted a mostly Paleo diet. My GERD disappeared almost overnight. I was sleeping better and my skin cleared up. I felt more confident.
I decided to join a gym about four weeks and 30 pounds into my journey. I was still over 400 pounds. The guy who sold me my membership probably thought he'd never see me again. I bought 15 sessions with a trainer and I started working out four or five times a week. When I worked out alone, it was mostly 45 minute elliptical sessions because I didn't know what else to do.
I ran my first 5K on Thanksgiving 2011, a little over a year after I started this journey. I completed my first triathlon 18 months to the day after starting. I eat 95 percent Paleo (I still drink diet sodas and enjoy the occasional fermented good-time beverage). But I never have grains and I never touch sugar.
Today, my daughters can sit in my lap comfortably and wrap their arms completely around me. I can't think of a single fitness metric that is more important than that one.
After Weight: 215 pounds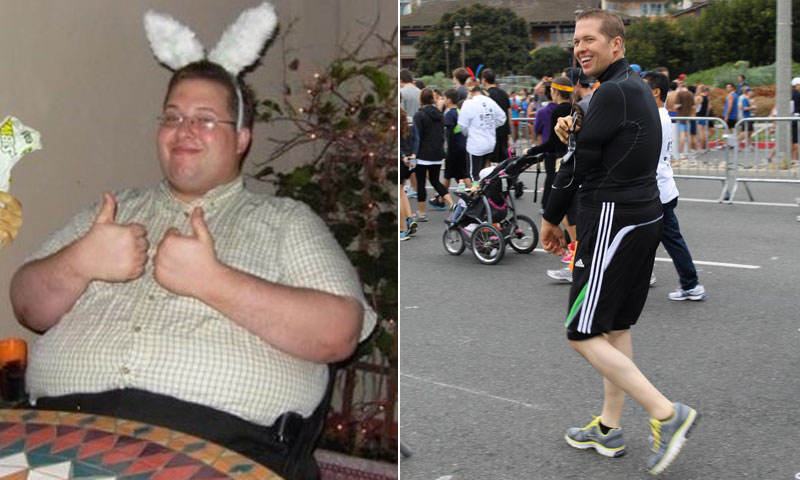 The Huffington Post publishes photographs as they are submitted to us by our readers.
Check out more of our inspiring weight loss stories below:
PHOTO GALLERY
Weight Loss Success Stories
For more on weight loss, click here.
BEFORE YOU GO