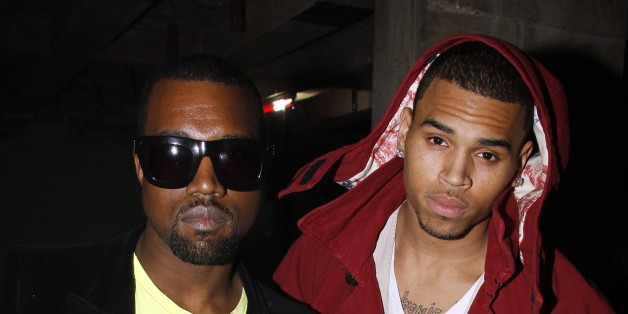 Chris Brown has chimed in with his take on Kanye West's problems with the paparazzi, because hey, why not?
On Friday, Brown took to Twitter with some unsolicited advice for West, who had some choice words for a few photographers who tried to talk to him while he was in his own garage. The 36-year-old rapper told the paps "Shut the f**k up, it's 4 am, you blood suckin' mosquito! You bully! You f**kin' mosquito bully! Mosquito bully!"
I hate how the media makes us look like aggressive animals. On some real shit If those cameras on ya property that means its trespassing.

— Chris Brown (@chrisbrown) September 27, 2013
@kanyewest hire some security or some street niggas to take care of the bullshit so u not explaining Yaself

— Chris Brown (@chrisbrown) September 27, 2013
Shit ain't cool!

— Chris Brown (@chrisbrown) September 27, 2013
To be fair, West, who is currently facing criminal battery and attempted grand theft charges for allegedly attacking a member of the paparazzi in July, has been doing his best to steer clear of photographers -- so Brown's advice about adding more security might not be necessary.
Further proving he absolutely hates the paparazzi, West made the decision to avoid flying out of LAX this weekend, where throngs of aggressive photographers wait around all day to snap photos of celebrities.
Meanwhile, West continued his campaign against Jimmy Kimmel on Friday by tweeting that the talk show host is "evil."
"Jimmy K. is the EVIL guy trying to keep people in a box and not want more out of themselves. He does this by making fun of real dreamers."

— KANYE WEST (@kanyewest) September 27, 2013
BEFORE YOU GO
PHOTO GALLERY
Stars Who've Clashed With The Paps