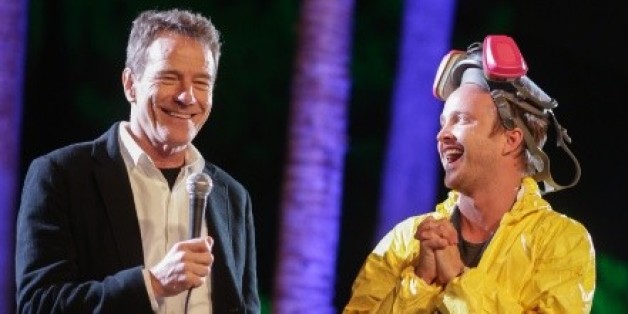 "Breaking Bad" is finished, and even though there's plenty of celebration over Vince Gilligan and Co. sticking the landing, it still feels a little bit like a funeral.
It probably doesn't help that I watched the finale at a cemetery.
The "Breaking Bad" finale party in Los Angeles, hosted by Jesse Pinkman himself, Aaron Paul, and benefitting his wife's anti-bullying charity, Kind Campaign, was held at the historic Hollywood Forever Cemetery on Sunday night.
Watch critics' and castmembers' reactions
to the end of "Breaking Bad"
It was an awesome event for fans -- with tickets selling out in under a minute, and even more being given away by Paul, including a day with Paul auctioned off on Omaze -- but it was also a wrap party of sorts for the cast, writers and so many crew members who made the trip from Albuquerque.
With "Breaking Bad"-themed cocktails by Bushmills and a photo op with an RV, of course, the event kicked off with a screening of the "Breaking Bad" pilot episode before we watched the series finale, under the stars, projected onto the side of a mausoleum, with gravestones scattered all around. If you've seen the episode, you know how fitting that was. (If not, what are you waiting for?)
After the finale ended, the cast took to the stage with Jimmy Kimmel to talk about saying goodbye to the hit series and to share a few funny behind-the-scenes stories, including Vince Gilligan's humble confession about one very poignant scene in the finale.
The fortunate accident occurred during the scene when Skyler (Anna Gunn) was on the phone with Marie (Betsy Brandt), and the camera panned to reveal Walt standing in her kitchen. Skyler's reflection appeared perfectly in the microwave, but Gilligan confessed that it wasn't intentional. When the editor complimented him on the layers of detail in the shot, Gilligan was shocked to see the cool final effect of something he hadn't realized he'd even captured.
It's things like that that make fans love the show even more, but it's also Paul and Cranston's real-life friendship. The two stars shared some very heartfelt moments together on stage:
To cap off the night, VIP guests were treated to an after party where Questlove DJed, servers and bartenders dressed up like Jesse Pinkman, Walter White in tighty whities and Heisenberg, and celebrity fans like Bill Hader, Weird Al Yankovic, Marilyn Manson, porn star Ron Jeremy and Amber Tamblyn continued to celebrate the show.
Tell us: How did you celebrate the end of "Breaking Bad"?
Click here for more information on Kind Campaign.
PHOTO GALLERY
'Breaking Bad' LA Finale Event
BEFORE YOU GO