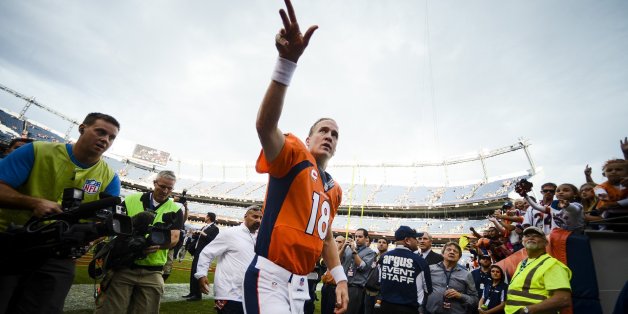 A quarter of the way into the 2013 NFL season, a few things are starting to shape up. Not surprisingly, Denver and Seattle are 4-0, but Kansas City? And what about the New York Football Giants, who have bumbled through four consecutive losses, none of which were even that close? The NFC East is a disaster, but no team has looked more hopeless than Tom Coughlin's. But it seems Cleveland at least may have found its quarterback. And meanwhile, New England also quietly remains unbeaten.
Here are the five key takeaways from the Week 4 slate:
1) The AFC West 4-0s
Denver continues to throttle teams into submission with the utterly dominant Peyton Manning, who has yet to toss an interception this season. Incredibly, the 37-year-old maestro has compiled 16 touchdown passes and has never looked better. On his final four touchdown drives Sunday against Philly, Denver never ran a third-down play. With the Andy Reid-led Kansas City Chiefs also 4-0 and San Diego resurgent as well, the AFC West is suddenly hyper-competitive. Everyone knew that Reid was one of the game's finest coaches, but to take a 2-win team from a year ago and transform it into this is something special. Quarterback Alex Smith continues to run an efficient offense, while the Chiefs' defense operates like a top-five unit, yesterday holding New York to just 7 points and Eli Manning to 18 of 37 passing.
2) Seattle Does It Again
The Seahawks are 4-0 for the first time in franchise history. Quarterback Russell Wilson, despite a sub-50 quarterback rating, made some huge plays late during the 23-20 comeback win over Houston in Reliant Stadium. So did gregarious All-Pro cornerback Richard Sherman, whose pick-six in the closing moments of the fourth quarter propelled the Seahawks to an overtime victory. Against a potent Texans offense, Seattle held them without a score during the final 41 minutes and 34 seconds. As I predicted before the season, the Seahawks and Broncos appear to be on a Super Bowl collision course.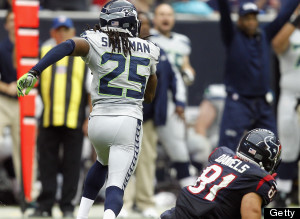 Seahawks cornerback Richard Sherman on his way to the house after intercepting Texans quarterback Matt Schaub late in the fourth quarter of Seattle's 23-20 overtime win. (Getty Images)
3) Speaking Of Undefeated
Despite a 4-0 start, it almost seems like Tom Terrific and the Pats are flying under the radar. In Sunday night's 30-23 road win over the normally dome-dominant Atlanta Falcons, Brady seemed much more comfortable -- and upright -- complemented by a stellar ground game. Receivers Julian Edelman and Kenbrell Thompkins were both well over 100 yards. With Danny Amendola and Rob Gronkowski moments away from their return to the lineup, things suddenly look peachy in Foxborough.
4) Same Ol' Cowboys
The NFC East is a disgrace, thanks in large part to another wet napkin performance from Dallas. To be sure, losing 30-21 in San Diego isn't as bad as it would have been a month ago, but how Dallas did it is baffling. After a splendid two-touchdown first half, receiver Dez Bryant saw a mere three targets in the fourth quarter as Tony Romo radar-locked on to tight end Jason Witten. Dallas is now 2-2 and in control of the wretched NFC East, but this is still your older brother's Cowboys.
5) Addition By Subtraction?
When Cleveland dealt second-year running back Trent Richardson to Indianapolis and promoted Brian Hoyer to starting quarterback, it looked like the Browns were fully prepared to tank the season. While 27-year-old Brandon Weeden -- whom the team inexplicably took in the first round of the 2012 NFL Draft -- may have been awful, Hoyer was an undrafted free agent with virtually no experience. Suddenly, though, the Browns have notched two straight wins, highlighted by Sunday's impressive 17-6 victory over streaking Cincinnati and Hoyer's five passing TDs. Cleveland isn't in the playoff picture yet, but it isn't dead either.
And that is perhaps the biggest shock of the league's first month.
Email me at jordan.schultz@huffingtonpost.com or ask me questions about anything sports-related at @Schultz_Report. Also, be sure and catch my NBC Sports Radio show, Kup and Schultz, which airs Sunday mornings from 9-12 ET.