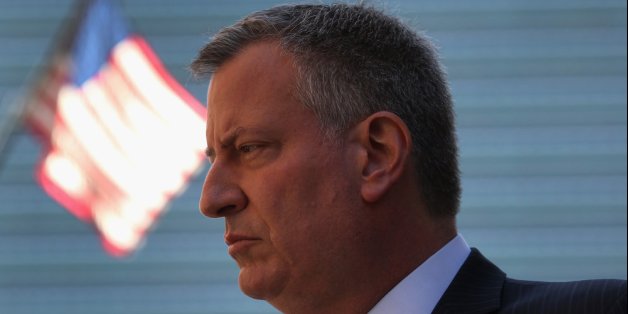 NEW YORK -- A little-known group of powerful Republican activists and donors with experience in campaigns across the country have coalesced in an attempt to overturn a New York state law limiting individual money in politics, and influence the New York City mayoral race in the process.
The Republicans at the center of New York Progress and Protection PAC wouldn't say how much money they intend to spend to aid Joe Lhota's underdog candidacy against the heavily favored Democrat Bill de Blasio. But they say multiple would-be donors are lined up to contribute more than $150,000 -- the current annual maximum allowed in New York -- if a judge grants them an injunction in their lawsuit challenging the constitutionality of the limit.
"It's about free speech. Free speech is the reason why I'm doing lots of things," Shaun McCutcheon, one of those would-be donors, told The Huffington Post. "It's about our rights as people under the First Amendment."
The NYPP's contention that New York state's campaign contribution ceiling violates First Amendment protections will be heard in federal court on Oct. 8. Handling the legal strategy is Michael Carvin, a Washington-based attorney specializing in campaign law who represented George W. Bush during the 2000 recount. Last year, he appeared before the U.S. Supreme Court to unsuccessfully challenge the constitutionality of the Affordable Care Act.
"This is plainly unconstitutional," Carvin told HuffPost about the New York law. He said it requires "immediate relief" because "my client wants to able to speak on the mayor's election."
"The timing is critical because there's very little time left," he added. Indeed, Election Day is Nov. 5.
Though it's unclear if the case will get resolved quickly, even groups that support keeping the limit in place acknowledge there's a good chance the PAC will win. Amy Loprest, executive director of the city's campaign finance board, said Friday she's "deeply concerned" by the lawsuit.
Critics said Republicans behind the PAC are ideologically opposed to campaign spending laws wherever they exist.
"There's this assault on federal election law that's going on around the country. They keep on chipping away," said Bill Allison, editorial director of the pro-transparency Sunlight Foundation. "There's this very determined, stealth legal campaign and it involves establishment figures and people who are outside the mainstream. Wherever there's a limit, they're looking to overturn it."
The GOP players linked to the NYPP include a lineup of heavy hitters. In addition to Carvin, there's McCutcheon, an electrical engineer from Alabama with deep pockets. He'd give at least $200,000 to NYPP if it weren't for the cap, according to the complaint filed in New York federal court last Wednesday. Federal elections records show he's given at least $442,959 to congressional candidates, conservative PACs, and Alabama's Republican Party, among others, since 2008. That doesn't cover contributions for state and local races.
McCutcheon also happens to be at the center of perhaps the most important campaign finance case since 2010, when the Supreme Court handed down its Citizens United decision, which flooded money into politics via super PACs. On Oct. 8, the Supreme Court will hear McCutcheon's challenge to the federal law that limits the aggregate amount individuals can give to candidates.
Back in New York, Lhota trails de Blasio by more than 40 points in some recent polls. Though helping Lhota win is perhaps a secondary goal compared to peeling back the campaign finance law, McCutcheon says he thinks the former head of the Metropolitan Transportation Authority could pull out a surprise victory with the help of outside money.
"If you get a little competition, we can win some races nobody thinks we can win," he said.
The founder of NYPP, meanwhile, is Craig Engle, an attorney based in Washington, D.C. who created the political law division of Arent Fox, a high-end law firm. From 1999 to 2000, he was general counsel to the National Republican Senatorial Committee. He also created one of the first super PACs in the wake of the Citizens United decision, and his firm's biography touts his skills as an adviser in the formation of super PACs as his forte.
Engle didn't respond to HuffPost's requests for comment for this article.
The well-heeled McCutcheon was introduced to Engle by Dan Backer, another GOP lawyer in Washington who specializes in fighting campaign finance reforms in court, McCutcheon and Backer said. Backer has spoken at the annual conservative summit CPAC, and in 2011 he was part of a team of lawyers that won a significant case against the Federal Election Commission.
The Carey v. FEC verdict allowed PACs for the first time to collect unlimited amounts of "soft money" for independent expenditures as long as it's kept separate from money that's directly given to candidates for office.
"We're conservatives," Backer explained, "and we're in the same circles of law."
Backer and McCutcheon also described Lhota as a conservative, though his support for same-sex marriage, abortion rights and marijuana legalization are not found on the standard conservative platform.
Lhota has said he supports the work of the outside groups supporting him -- including New Yorkers for Proven Leadership, a separate PAC that has received contributions from billionaire David Koch and his wife Julia -- which must operate independently of his campaign.
"I believe this is a First Amendment issue," he said last week. "It's about freedom of speech."
De Blasio's spokesman Dan Levitan criticized the PAC's attempts to sway the election and upend the state's campaign finance regulations in an email to HuffPost.
"Right-wing Republican operatives are suing to dismantle New York's election laws so they can funnel millions trying to elect Republican Joe Lhota, but New Yorkers won't let Tea Party extremists undermine our campaign finance system," he said."
But the NYPP characterized its lawsuit as principled stand against an unjustifiable law.
"It's an anachronism. Every court that's heard arguments about law similar to this have them struck down," Carvin said. "It's really very straightforward legally."