If you weren't already panicked about the possibility of a government shutdown, this may push you over the edge.
Apparently pandas are not "essential" government workers to be spared from furloughs. The National Zoo confirmed on Monday morning that, should Congress not pass a spending bill by midnight on Monday, the zoo's panda cams will no longer provide us a life-affirming livestream of 233-pound panda mom Mei Xiang cuddling with and otherwise attending to her (at last check, on Sept. 26) 3.07-pound, still-unnamed baby girl.
Here's what the zoo said in a news release, that we almost can't bear (Get it? But seriously) to show you:
If the federal government shuts down on October 1, the Smithsonian's National Zoo will be closed to the public. All programming and events will be canceled. All vehicle, pedestrian, and bicycle paths into the Zoo will be closed. None of our live animal cams will broadcast.

All the animals will continue to be fed and cared for. A shutdown will not affect our commitment to the safety of our staff and standard of excellence in animal care.
Zoo spokesperson Devin Murphy told The Huffington Post that, while the panda cam is sponsored by The Ford Motor Company and partially run by volunteers, this doesn't give our favorite distraction a reprieve.
"Volunteers are not allowed onto zoo property in the event of a government shutdown," said Murphy.
How'd you like that steady flow of tweets and Facebook posts about the amazing animals that live in captivity in the nation's capital? Well, the zoo won't be updating its website or social media accounts during the shutdown, either, except "with emergency information," Murphy said.
Here's where you can obsessively monitor panda cam 1 and panda cam 2, while you can watch them.
And in case you can't:
Animals will continue to be well-cared-for even if we can't see them ourselves, the zoo promised on Twitter. But if the cams do go dark, who will make sure all us baby panda addicts are OK?
UPDATE, Oct. 1, 9 a.m.: And the panda cam is off: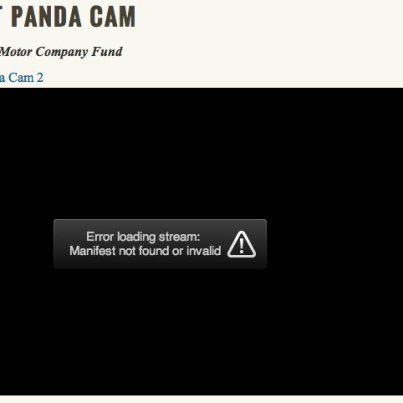 Here are some other zoos' panda livestreams to sate us, to the extent possible, during these dark times: San Diego's panda cam, Atlanta's, Memphis' and the iPanda.com cam at China's Chengdu Research Base of Giant Panda Breeding.
BEFORE YOU GO
PHOTO GALLERY
Panda Overload!
PHOTO GALLERY
Panda Baby's First Checkup