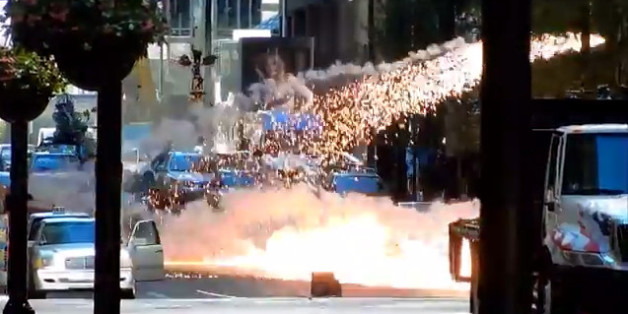 Director Michael Bay, actor Mark Wahlberg and their large entourage appear just about ready to move on from their busy month-plus stay in Chicago, blowing up small sections of the city, speeding along its roadways and still finding time to wine and dine about town.
But Bay and co. won't be going out without a bang, literally: According to the Chicago Tribune, "Transformers: Age of Extinction" will be wrapping up its Chicago shoot this week after a massive controlled explosion at the abandoned Santa Fe Grain silos near 29th and Damen in Pilsen on Wednesday afternoon.
(Read below for videos and photos from "Transformers" filming in Chicago.)
Per the Tribune's Luis Gomez, the explosion is being described as "the mother of all bombs."
The silos were already the site of an explosion earlier this month (as documented by Architecture Chicago Plus and Chicagoist) and filming in Chicago also sent crews to the area around the 111 South Wacker Drive building over the weekend for some more of the requisite pyrotechnics, hoards of running extras and other "Bayhem."
Officials have estimated the film's stint in the city is responsible for pumping about $27 million into the local economy, DNAinfo Chicago previously reported.
PHOTO GALLERY
'Transformers 4' Blowing Up, Blowing Through Chicago
BEFORE YOU GO
PHOTO GALLERY
'Transformers 4' Filming In Uptown