The Rape, Abuse, and Incest National Network celebrated its 10th annual "RAINN Day" Thursday with participation on approximately 300 college campuses, the organization said.
RAINN Day is the non-profit organization's annual day of action to raise awareness about sexual violence on college campuses, where women are most likely to encounter such crimes.
At the University of Texas-Arlington campus, students explained the difference between what is "cute" and "creepy" in a relationship. Some students had some fun with puns for RAINN day by using umbrellas at Georgia Tech and Elon University...
#RAINNDAY table! @GTWRC pic.twitter.com/nyiKNNcPc9

— Amanda (@ahfrancis) September 26, 2013
#RAINNDay at Elon! @RAINN01 @StephanieRita @rachy_care pic.twitter.com/Kd9XqEPzbo

— Elon Feminists (@elonfeminists) September 26, 2013
...and with rain drops at American University encouraging victims to stay strong.
#AURAINNDay pic.twitter.com/tKJG8VzrI1

— Zoé (@gabitaberrios) September 26, 2013
FHSU made it RAINN against sexual assault! Check out our other posts to see pics of today #RAINNDay @RAINN01 pic.twitter.com/cdH5hywb4Y

— Women's Leadership (@WLP_FHSU) September 26, 2013
But this year, RAINN had help with a host of students speaking out about how their colleges handle sexual assault reports, and anti-rape activists FORCE pushing a similar message, albeit a bit more viral.
FORCE tricked thousands of people on Sept. 17 when they published a fake Playboy website that fooled people into thinking the iconic magazine did away with its party school rankings for a consensual sex guide.
And it seemed FORCE's fake party list got more attention than the actual Playboy ranking, released on Sept. 25: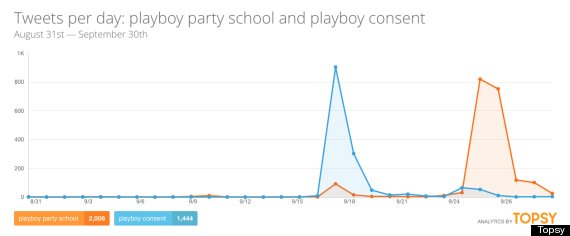 But in finding out it was a hoax, plenty of bloggers bemoaned the fact that Playboy didn't actually go full-out for consent.
"It might be a smart move for Playboy to actively co-opt the issues raised by the stunt in order to propel itself into the 21st century," wrote Sarah B. Weir at Yahoo.
Alive Lazare, writing in the Daily Texan, suggested Playboy should've published a sexual safety article.
"There is a problem that exists in schools because consent isn't seen as sexy, it's not standard -- yet," Lazare wrote. "The University of Texas has Voices against Violence to help make consent commonplace, but students need to be open to this message."
BEFORE YOU GO
PHOTO GALLERY
It Happens Here: Photos Of Men And Women Who Were Sexually Assaulted At Amherst College