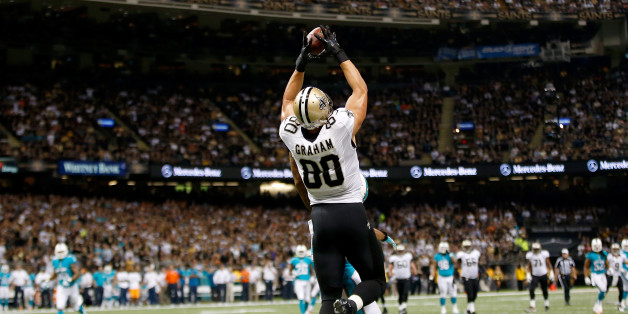 Defending Saints tight end Jimmy Graham can sometimes seem impossible. As Dolphins cornerback Jamar Taylor learned on "Monday Night Football," Graham and Drew Brees can make a defender look bad even when he does everything right.
In the second quarter on Monday, Taylor stuck with Graham throughout his route. It didn't matter. When he got inside the 5-yard line, the 6'7" Graham jumped to where Taylor could not, caught the ball and landed in the end zone with two other defenders nearby.
Then the former Miami Hurricanes basketball player posted up an imaginary defender and dunked the ball over the field goal post.
"This team is so dynamic, we have so many weapons and Drew knows exactly where to go with the ball," Graham said after New Orleans' 38-17 win.
Graham finished with four catches for 100 yards and two touchdowns.
BEFORE YOU GO
PHOTO GALLERY
PHOTOS: Saints vs. Dolphins