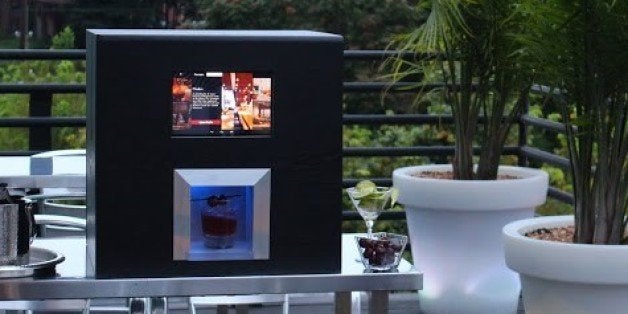 A small company in Atlanta is trying to solve a problem you probably didn't know existed: Your home is lacking a stylish machine that can make you and your guests martinis.
On Tuesday, the four-person company Monsieur plans to start selling a home version of its automated bartender -- a small contraption that mixes drinks for you. The company is trying to raise $100,000 on Kickstarter to build and ship the first batch.
Don't worry if you've never heard of a Monsiuer machine. There are only about 10 of them in existence so far, and they're limited to a handful of nightclubs and restaurants in Atlanta. It's a simple concept: You use a touchscreen on the machine or a smartphone app to browse from a list of cocktails, based on what mixers, juices and liquors you've loaded in the machine.
Monsieur comes complete with themes -- "cigar bar," "Cinco de Mayo" and "tiki bar," to name a few -- and each one has about a dozen drinks to choose from. Put your cup down, make a selection and choose the strength, and within a matter of seconds, a mixed drink is sitting there waiting for you. It's very intuitive -- my colleague Andres walked into the conference room while we were testing the machine and figured out how to order a Cape Cod with minimal explanation.
But the machine is going cost you. Monsieur Mini, which has containers for four mixers and liquors, is $1,499, while the eight-container machine, pictured above, is $2,699.
Up until now, Monsieur has been leasing the machines to clubs and restaurants for a $995 setup fee and about $300 per month. The idea was that it enhances expensive bottle service at nightclubs, said company co-founder Barry Givens.
The Monsieur that Givens and his co-founder, Paul Judge, wheeled into my office last week was a 2-by-2-foot black wooden box. Without liquids, it weighs about 40 pounds, so it's not exactly something you'd be moving a lot. If it didn't have its touchscreen -- which is actually a Nexus 10 tablet -- and place for a cup, it would look like a subwoofer for a home theater system.
The device's wow factor: It gets to you know you, sort of. The Monsieur connects to your Wi-Fi network and can recognize when you come home, thanks to your smartphone joining the network. If you usually arrive back from work at a certain time, but then one day come home later, Monsieur will text you, ask you if you had a long day and offer to pour you a stiffer drink. If Monsieur detects another person trying to join the WiFi network, it will offer to pour two drinks.
It will even suggest new drinks to you based on what you've ordered in the past.
"The whole goal is to be your bartender and also be your butler," Judge said.
The app also estimates your blood alcohol content based on your weight, how many drinks you've had, and the strength of the drinks. If you leave the Wi-Fi network, a notification will come up with taxi-hailing apps like Uber and Taxi Magic, making it easy for you to call a cab.
For those bartenders and mixologists who are worried -- Monsieur won't be replacing a human bartender anytime soon. There's a lot it can't do. For one, you have to put the ice-filled cup in the right place each time you want a drink. And beyond mixing ingredients, it can't do much else in terms of making a cocktail: no muddling, shaking, garnishing, ice-crushing or working with egg whites.
And as my colleague Andres pointed out: Unlike a bartender, it can't give you relationship advice ... yet.