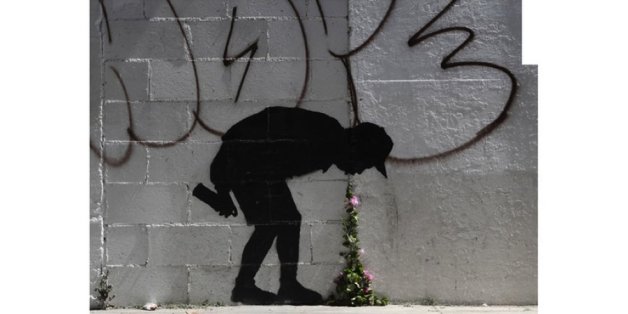 Banksy is taking over the streets of New York this month, hosting an open-air exhibition titled "Better Out Than In." The cheeky street artist is sporadically tagging mysterious spots around the city, posting images of the murals on a newly created Instagram account while prompting his fans to hunt down the actual whereabouts of the artworks.
To help you on your Bansky scavenger hunt this October, we're keeping track of the graffiti icon's activities here . Look out for new tags and their exact locations so you can attempt to keep up with the elusive artist.
10/30/2013 6:39 PM EDT
Yankee Stadium
#33, Mural: The Bronx
10/29/2013 5:28 PM EDT
Housing Works On 23rd Street
#32, Painting: Banksy painted a Nazi soldier onto a preexisting landscape painting and dropped it off at Housing Works, a Manhattan thrift store.
10/28/2013 12:49 PM EDT
Stillwill And Neptune
#31, Mural: Coney Island
10/28/2013 12:40 PM EDT
131 47th Street
#29, Truck Mural: Sunset Park
10/24/2013 10:33 AM EDT
Hustler Club At 641 West 51st Street
#27, Mural: Hell's Kitchen, Manhattan
10/23/2013 11:38 AM EDT
No Banksy Today?
#26, Message
10/22/2013 12:23 PM EDT
127th Street And 35th Avenue
#25, Mural: Willets Point, Queens
"Everything but the kitchen Sphinx. A 1/36 scale replica of the great Sphinx of Giza made from smashed cinderblocks.You're advised not to drink the replica Arab spring water."