Tweeters have sent a grand total of more than 300 billion tweets, according to the financial prospectus Twitter filed Thursday ahead of its highly-anticipated public offering.

But only a handful those tweets merited inclusion in the IPO documents. As you might imagine, the tweets that were included were heavy on ads, and light on spambots masquerading as porn stars. Still, as the Wall Street Journal notes, Twitter may be the only company to include Osama Bin Laden in its IPO filing.
We've collected Twitter's favorite tweets -- or at least the ones it thinks will help them make money.
Here are the tweets Twitter considers worth celebrating:
Obama's election:
Four more years. pic.twitter.com/bAJE6Vom

— Barack Obama (@BarackObama) November 7, 2012
Osama bin Laden raid:
Helicopter hovering above Abbottabad at 1AM (is a rare event).

— Sohaib Athar (@ReallyVirtual) May 1, 2011
Hurricane Sandy:
Just advised that national guard has arrived in Hoboken. More to come.

— Dawn Zimmer (@dawnzimmernj) October 31, 2012
In Hoboken, we have 20 vehicles and 6 box trucks w boxed lunches, ready-to-eat meals, water, 7 mental health workers
(11.1.12) #Sandy

— American Red Cross (@RedCross) November 1, 2012
NYC Tap Water is absolutely safe to drink #SandyNYC #Recovery

— Mike Bloomberg (@MikeBloomberg) November 1, 2012
US Airways Flight 1549 lands on Hudson River: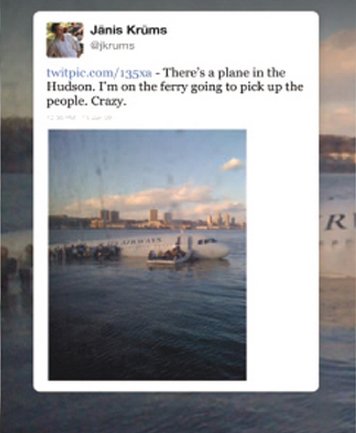 Mario Batali trades tips with singer Gavin Rossdale: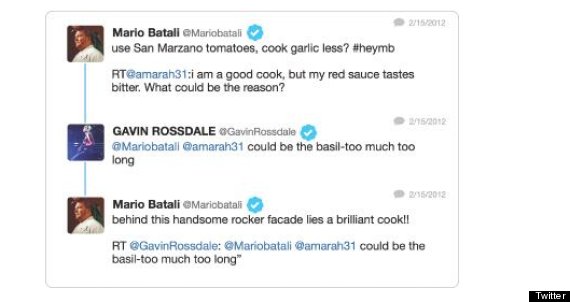 Twitter co-founder Jack Dorsey's first tweet:
just setting up my twttr

— Jack Dorsey (@jack) March 21, 2006
Water ice found on Mars:
Are you ready to celebrate? Well, get ready: We have ICE!!!!! Yes, ICE, *WATER ICE* on Mars! w00t!!! Best day ever!!

— MarsPhoenix (@MarsPhoenix) June 20, 2008
An Everest climb live-tweeted:
I've left 7500m camp for Everest summit push on 10:30pm JST. It's really cold, dark and like space. I can only see stars.

— Nobukazu Kuriki (@kurikiyama_EN) October 17, 2012
Oreo's infamous Super Bowl tweet
Power out? No problem. pic.twitter.com/dnQ7pOgC

— Oreo Cookie (@Oreo) February 4, 2013
Royal baby is born:
Her Royal Highness The Duchess of Cambridge was safely delivered of a son at 4.24pm

— Clarence House (@ClarenceHouse) July 22, 2013
Kevin Durant plays flag football: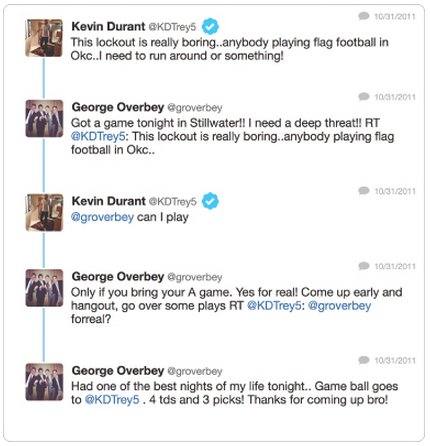 New Relic ad: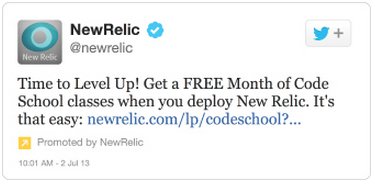 Wheat Thins Vine ad:
Have Your Wheat Thins Been Taken? Probably.
http://t.co/IRLWBSrwFR
#MustHaveWheatThins
http://t.co/bDfzwmka9K

— Wheat Thins (@WheatThins) April 23, 2013
Bonobos Twitter sale:
TWIXCLUSIVE Sale! Our 1 and only Washed Chinos. Were $88, now $49. 24-hour sale unlocks after 49 RTs. http://t.co/9xBB0lPQ

— Bonobos (@Bonobos) September 29, 2011
BEFORE YOU GO
PHOTO GALLERY
19 Tweets You'll NEVER See Again