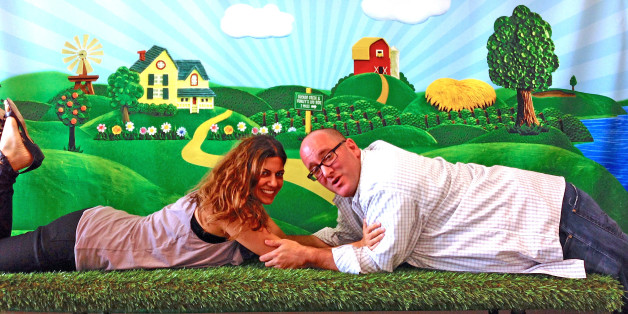 One of the reasons I started my website is that I wanted a place for women to come together and dream. We women need to know that we don't have to hang on to an old dream that has stopped nurturing us -- that there is always time to start a new dream. This week's story is about a couple who loves chocolate almost as much as they love each other, which is a lot! Ashley and Shawn Mendel quit their day jobs and took a chance on starting their own chocolate company. Their risks paid off -- today, they're at the helm of a sweet multi-million-dollar empire. -- Marlo, MarloThomas.com
By Lori Weiss
For Ashley and Shawn Mendel, it was love at first bite. The couple met in a movie theater, where Ashley's exuberance over a bag of M&Ms caused the colorful candies to explode all over the man seated in front of her. That was Shawn, and those M&Ms led to their first date and a love story that would be forever laced in chocolate.
"We even wrote chocolate into our wedding vows," Ashley laughed. "I promised to always have it within 50 feet of Shawn. And, yes, there were monogrammed M&Ms at our reception."
So when the couple began to grow weary of their jobs in the entertainment business, Ashley in marketing and Shawn in production, they decided to follow their entrepreneurial dreams -- a co-production that included their shared passion for chocolate.
"The first time I went home with Shawn to meet his family," Ashley said, "he told me the story of how his Mom would put him up on the counter and have him break up homemade cookie bits. She'd melt chocolate and then create clusters which she'd put in the refrigerator. We'd make our own version of those at home and our friends loved them. There was really nothing out there that compared. So we decided to go to the source and made a deal. We wanted to bring Shawn's Mom's recipe to market and she was happy to give it to us -- with one condition -- that it would bring her grandchildren."
"We were in the throes of love, so we thought we could do anything. Had we known how much we didn't know, we probably would have been paralyzed with fear."
Article continues below slideshow
PHOTO GALLERY
It Ain't Over: Ashley And Shawn Mendel
But the couple did know one thing -- they knew they had a friend in the candy business and he was more than willing to point them in the right direction -- to a trade show in Chicago that featured 3.5 acres of sweet treats.
As it turned out, that one piece of advice would be the missing ingredient that would take the couple from simply being chocolate lovers to building a tasty, million-dollar business.
"Shawn went alone that first year. There's no way we could have afforded two plane tickets. We had both quit our jobs with just enough to live on for a year and a half -- money I had put aside from my job at Disney and money Shawn had been saving and investing since his Bar Mitzvah.
The connections he made there are the reason we're in business today. He met people who taught us about co-packers and packaging suppliers and most importantly, not only how to make product, but how to make money. You'd be surprised how willing people are to help."
With a group of newfound mentors and friends, the couple was guided to a manufacturer that had been in the business for 100 years -- a small family company that was willing to take a chance on two young chocolate lovers. They sent samples back and forth until the secret Mendel recipe was perfected, and then Ashley and Shawn returned to the candy expo -- this time with a small booth and a product called Stix In The Mud that they hoped would be the next big sweet sensation.
"Our booth was at the very back corner of the show," Ashley recalled, "but we were swarmed. We had mailed postcards to 4,000 buyers introducing our company, Funley's Delicious, and we put Stix In The Mud in 1,000 buyers gift bags. Some of the biggest retailers in the country came by to find out more about our little company. You know that saying, 'Fake it 'til you make it'? That's what we were doing. We had no way to manufacture at that level yet! But once we knew there was real interest, we were going to find a way to make it happen."
It was 2008, and the recession was under way -- making it virtually impossible for a start-up company like Ashley and Shawn's to get funding. But between family, friends, credit cards and a lot of passion and persistence, the couple managed to find the money to go into full-scale production. It wasn't long before they were doing demos at Costco and delivering a half-million-dollar order. And then Walmart came calling.
"From day one we operated as if we had the money. We knew we'd find it. We had confidence in ourselves and in our product. As an entrepreneur you never stop raising money -- at least not until you have serious investors. So, to us, that was just part of the process."
But as they were raising money, they were also keeping an eye on the marketplace. And that's where they saw the sweetest opportunity for growth. Angel investors were lining up to get behind the natural food product trend -- something Ashley had always had a personal interest in.
"I'm very health-conscious," she explained, "but I don't cut all the fun out of my life, and I didn't want to take all the fun out of our product. I believed in what we were doing, but at the same time I wanted our products to be something I could feel comfortable putting in people's mouths."
So, despite their big sales, Ashley and Shawn reformulated their brand and their company. With a goal of getting into Whole Foods, they refined the recipe for Stix In The Mud and developed two more natural products, Super Crackers and Wholly Granolly Clusters. It wasn't long before the natural food giant took note and decided to add a little "Funley's" to their shelves.
Nearly 11,000 stores followed their lead and that's when the couple decided to take their products to the Nutrition Capital Network -- a gathering of high-net-worth individuals and private equity firms with an interest in natural foods.
"It's kind of like being on "Shark Tank," just not as brutal! You can be a small business or a 30-million-dollar company. You present for ten minutes, and then people who are interested sign up to meet with you one-on-one."
It didn't take long for investors to see the couple's commitment and to fall in love with their products. In March of this year, Funley's was funded $3.5 million. Today, the company that was built on a couple's shared passion is a multi-million-dollar venture. And they're projecting nearly $10 million in revenue by the end of 2014.
"When we closed that deal," Ashley said, "it was the best sleep I ever had. We could pay back our family, pay off our credit cards and finally move our office out of our two bedroom apartment."
"What I've learned is that there's a fine balance between being dedicated to your vision and being flexible enough to go with the flow and change where you need to. When you're presented with a wall, you have to find your way around it. For several years we lived like we had a piano on a wire over our heads. The stakes couldn't have been higher. But now we can start working on those grandchildren!"
Add Marlo On Facebook:
Follow Marlo on Twitter:
Weekly Newsletter
Sign up to receive my email newsletter each week - It will keep you up-to-date on upcoming articles, Mondays with Marlo guests, videos, and more!