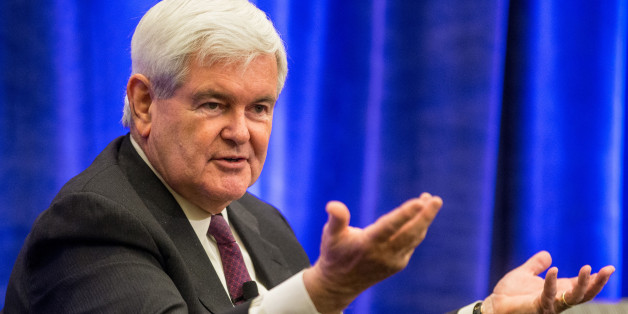 WASHINGTON -- Newt Gingrich has a terrible track record when it comes to squaring off against presidents in budget showdowns, but his major talent as a rising Republican insurgent in the 1980s and '90s was in identifying thin-skinned Democrats who could be annoyed into making major mistakes.
One example was then-House Speaker Jim Wright, whom Gingrich tortured with investigative leaks and legislative ambush maneuvers.
Now he thinks he has found another pinata for the GOP, as they seek a government shutdown solution, and it is not President Barack Obama.
"I am very positive about focusing pressure on Harry Reid," Gingrich told me Friday. "Look at how he blew up at Dana Bash on CNN two days ago."
At first glance, Reid resembles an accountant, but the Democratic Senate majority leader plays the political game with the intensity of the boxer he once was and the cold-bloodedness of Las Vegas, the biggest city in his state. And he is known for calling people names and outbursts of anger when pressed.
CNN's Bash did so the other day, asking Reid why he would not consider a "mini" continuing resolution to fund cancer research during the shutdown if it would "help one child."
"To have someone of your intelligence suggest such a thing maybe means you're as irresponsible and reckless [as the Republicans]," Reid responded at a press conference.
That's why the last GOP speaker to take on a Democratic president over a shutdown suggests: Focus on Reid, and try to back the Democrats into a corner by forcing them to vote on targeted measures to reopen portions of the shutdown government.
"Reid is already facing a whole series of targeted continuing resolutions that he is blocking from a vote in the Senate because he knows that they would pass, and then President Obama would have to veto them or sign them," said Gingrich.
Gingrich pointed out that 57 House Democrats had already voted for one or another of the mini-bills put forth by Republicans as a way to pressure the White House.
He did not use that tactic in the shutdowns of 1995-96 when he was speaker, Gingrich said, because half of the budget appropriations bills for federal agencies had already been passed -- and so there were fewer targets for mini-bills.
This time there are many.
BEFORE YOU GO
PHOTO GALLERY
2013 Government Shutdown