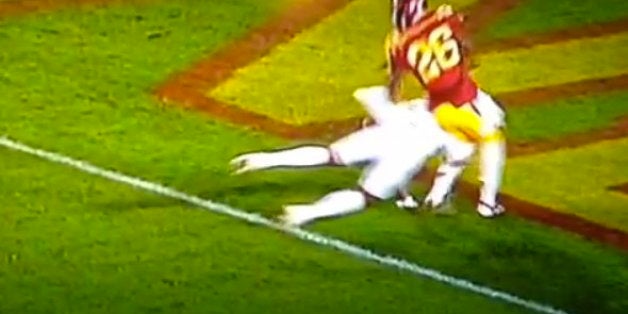 Texas wide receiver Mike Davis garnered attention for all the wrong reasons on Thursday night. On Friday, he attempted to defend his actions.
Davis dove at the knees of Iowa State defensive back Deon Broomfield during the third quarter of a Big 12 game on Thursday night while ostensibly blocking for a play taking place on the far side of the field. Texas would score on the play and Davis would be excoriated for his low dive.
A short while later, an unrepentant Davis chimed in.
A day later, Davis again addressed the incident on Twitter. This time, the 6' 2" senior made an attempt to explain why he thought he had not done anything wrong.
The play call was an option to either a run or WR screen. My job is to protect our WR screen & block my defender. I wasn't aware it was .

— Money Magic Davis jr (@MikeDavis_1) October 4, 2013
I wasn't aware it was a run.
Check the tape & you can see our other WR is also blocking his defender. I did exactly what we are taught to

— Money Magic Davis jr (@MikeDavis_1) October 4, 2013
BEFORE YOU GO
PHOTO GALLERY
Best 2013 Sports Photos