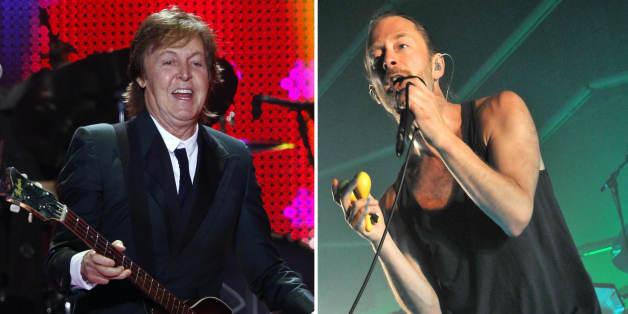 No logical person is too busy for Paul McCartney -- but that's not what the former Beatle himself thinks.
McCartney told NME this week that he'd much like to work with Radiohead frontman Thom Yorke, something his daughter is pressing him to do as well. The holdup? McCartney's fear that Yorke is too busy for him.
"My daughter Stella is very keen. She's got a project, she keeps saying to me, 'Ring Thom and just go into the studio and just see what you come out with,'" McCartney said. "I'm a bit sort of paranoid to just ring him up. 'Hey, Thom, it's Paul here. What do you fancy, what are you doing? Do you fancy writing something?' Just in case he says, 'Er, actually I'm busy.'"
This team-up would be a dream collaboration not only for the both of them, but for us as well, so we're going to venture a guess that a phone call would probably elicit an affirmative from Yorke, who is currently touring with side project Atoms for Peace.
If that doesn't work out, McCartney still has another option that sounds perhaps even more appealing: a collaboration with Bob Dylan.
"There were big rumours a couple of years ago about me and Bob Dylan writing together, and I've still got that at the back of my mind," he said. "I would like to do it."
McCartney is currently gearing up release a new album, appropriately titled "New," on Oct. 14.
BEFORE YOU GO
PHOTO GALLERY
Strange Musical Collaborations Of The 21st Century