He was burning more than rubber, but police were in hot pursuit.
A man wanted on a drugs warrant in Colorado was arrested in Albuquerque, N.M., Oct. 3 after he allegedly drove a burning pickup truck through city streets.
After he was arrested, Elias Miranda, 37, told police that the fire started after he flicked a cigarette onto a T-shirt on the back seat of his red pickup truck. The man said he'd been upset because traffic was blocked for a movie shoot.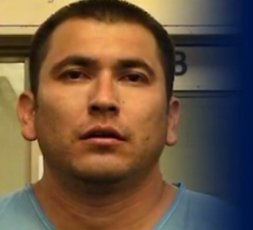 Elias Miranda (KQRE/Albuquerque Police)
But as the truck went up in flames, the suspect quickly discovered he had bigger problems. Miranda drove the truck through the city as it burned, while onlookers took video of the vehicle engulfed in flames.
"It was crazy," witness Lucas Salazar, who caught the incident on video, told KRQE. "I mean, how often do you see a truck flying down the road on fire?"
Salazar said at one point, Miranda "jumped out of the window like he was like ghost-riding the whip."
An example of "ghost-riding the whip," also known as car-surfing
When police responded, the suspect allegedly grabbed a hammer and a rock and fled on foot after being stunned with a Taser several times.
"They chased him through the neighborhood and... Tased him a couple times, but he didn't stop," Salazar told KOB. "He kept going. He had... a couple of wires stuck in him."
Miranda allegedly broke into a nearby house using the hammer. He was arrested there after officers talked him down. He was held without bond Oct. 4.
BEFORE YOU GO
PHOTO GALLERY
Bad Choices