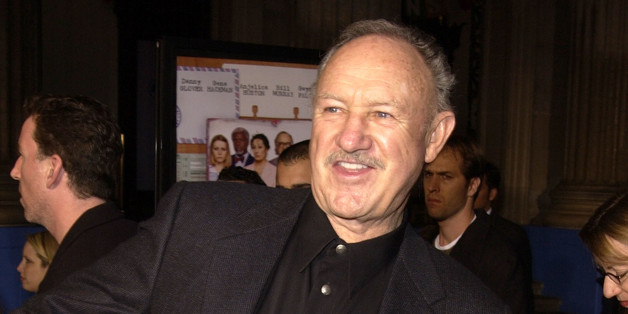 "The Royal Tenenbaums" wasn't Gene Hackman's last film before his self-imposed hiatus -- that honor goes to "Welcome to Mooseport," the 2004 comedy that stands as Hackman's only onscreen appearance in nine years -- but it's certainly actor's best-remembered feature from this century. To think, it almost didn't even happen.
In a lengthy excerpt from Matt Zoller Seitz's new book, "The Wes Anderson Collection," posted by Vulture, director Wes Anderson reveals just how difficult a time he had corralling Hackman for the part, which Anderson wrote expressly for the now 83-year-old actor.
Gene Hackman — it was always your dream for him to play Royal?

It was written for him against his wishes.

I'm gathering he was not an easy person to get.
He was difficult to get.

What were his hesitations? Did he ever tell you?
Yeah: no money. He's been doing movies for a long time, and he didn't want to work sixty days on a movie. I don't know the last time he had done a movie where he had to be there for the whole movie and the money was not good. There was no money. There were too many movie stars, and there was no way to pay. You can't pay a million dollars to each actor if you've got nine movie stars or whatever it is — that's half the budget of the movie. I mean, nobody's going to fund it anymore, so that means it's scale.
Hackman, of course, relented, leaving Anderson and "Royal Tenenbaums" cast members Bill Murray, Gwyneth Paltrow and Anjelica Huston with a bunch of war stories about the cantankerous star. The group shared some of remembrances during a 10th anniversary screening of "The Royal Tenenbaums" at the New York Film Festival in 2011.
"I loved working with him," said Paltrow said at the event. "I loved being in the same scenes as him. He was kind of a bear of a guy, but I also found something very sweet and sad in there. I liked him a lot. I think he's one of the greatest actors who ever lived. To be in his presence and watch him do his thing. It's like -- you know, you're Gene Hackman, you can be in a bad fucking mood."
Murray, who joked that Hackman threatened to burn the set down, also stood up for the film's title star, while simultaneously throwing "Tenenbaums" co-stars Luke Wilson and Kumar Pallana under the bus.
"He had, like, a complete spaced-out high school kid [Wilson] and Kumar every single day. How many of you have worked with Kumar? None of you! You wouldn't be here if you had," Murray said. "Kumar makes Luke Wilson look like [John] Gielgud. If I had to work with Kumar and Luke Wilson, I would have set fire to this whole building."
For much, much more about "The Royal Tenenbaums," head to Vulture for the must-read excerpt.
PHOTO GALLERY
BEFORE YOU GO
Celebrity News & Photos
PHOTO GALLERY
Celebrity News & Photos