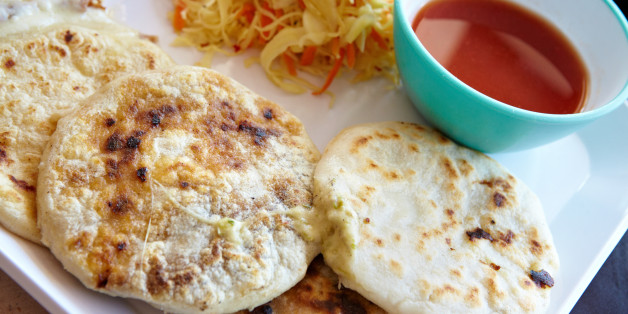 It's Hispanic Heritage Month, a great time to go beyond geographical frontiers and share the best of our culture: food. Food is always as honest as it can be – it will always reveal the history behind that country or region, and the spirit behind people.
Celebrate Hispanic Heritage Month with the following recipes:
From Mexico: Bread of the Dead
The popular celebration of the Day of the Dead is almost upon us. And I can't think of a better recipe than the Bread of the Dead to celebrate the spirit of Mexico: celebratory, sweet, colorful, and full of flavors.
Bread of the Dead
Ingredients:
Yield 1 large loaf
1/4 C unsalted butter
1/4 C milk
1/4 C warm water (110 F not hotter or you'll kill the yeast)
3 C all-purpose flour, unbleached
1 1/4 t active dry yeast
1/2 t sea salt
2 t anise seed
1/4 C white sugar
2 eggs, lightly beaten
2 t fresh orange zest (or lemon)
For Glaze
1/4 C white sugar
1/4 C orange juice or 3 T orange blossom
1 T orange zest
2 T white sugar
Optional: Instead of the glaze you can use two beaten eggs (egg wash) to coat the bread. Use a pastry brush (or cotton ball) to lightly brush the egg wash over the bread.
Method
Preheat oven at 350ºF.
In a medium pan heat the milk and the butter together until the butter melts. Remove from the heat and add the warm water.
In a large bowl combine the dry ingredients: 1 cup of the flour, yeast, salt, anise seed and 1/4 cup of the sugar. Beat in the warm milk mixture, add the eggs and orange zest and beat until well combined. Stir in 1/2 cup of flour and continue adding more flour until the dough comes together and feels soft.
Turn the dough out onto a lightly floured surface and knead until smooth and elastic. Place it into a lightly greased bowl, cover with plastic wrap and let rise in a warm place until doubled in size for about 2 hours. Punch it down and shape it into a large round loaf with a round knob on top.
Place dough onto a baking sheet, loosely cover with plastic wrap and let rise a second time in a warm place for about 1 hour or until just about doubled in size.
Bake for about 35-45 minutes. Remove from oven, let cool slightly then brush with glaze.
For glaze: In a small saucepan combine the 1/4 cup sugar, orange juice and orange zest (or orange blossom). Bring to a boil over medium heat and boil for 2 minutes. Brush it over bread and finish it sprinkling the bread with white sugar.
Related Mexican recipes: Authentic Mole Poblano
From El Salvador: Forever Pupusas
Ingredients:
Yield 12
Filling
16-24 oz chickpeas or beans (canned or fresh) refried
3 C soft "queso blanco" or shredded mozzarella
1 C chicharrón or crispy panceta
1 T onion, chopped
1/2 C white sweet potatoes, organic, cubed, cooked
1/2 t sea salt
1 C beefsteak tomate, ripe, seeded, cubed
Dough
5 C cornmeal
4 C warm water
1 t sea salt
Vegetable oil, for frying, as needed
Optional for garnish: Pickles, fresh salad, and hot sauce.
Method
In a large bowl, combine all the ingredients for the filling and set aside.
In another bol, combine the dry ingredients. Start adding water little by little to start making the dough. Once you got a spongy consistency (bit sticky is okay), start shaping small balls (about 24). Set aside covered with a wet towel. Let them rest for 10-15min.
Make a hole on each dough and add filling. Then press with your hands to make a disc (14-inchesx6-inches). Stretch them carefully, making sure the filling remains inside.
On a hot pan, add oil and once you see it creates waves start adding the pupusas. Cook 1-2 minutes per side or until golden crispy. Remove from oil and place on top of paper towel to remove excess of fat.
Serve with fresh salad of your choice, or as I'd do it, with a cold avocado soup.
From Dominican Republic: Chayotes (Tayotes) scrambled with eggs
Chayotes, in the Dominican Republic, are called tayotes. The cuisine here is uniquely rich and diverse.
Ingredients:
Serves 2
1 large chayote, peeled, halved and cooked in salted water; seeded, cut into 1/2-inch cubes
3 T vegetable oil
1 medium onion, chopped
1 clove garlic, minced
2 medium ripe tomatoes, peeled and chopped (concassé)
1 small (fresh) red or green hot pepper, seeded and chopped
Sea salt and black pepper, to taste
1 T tomato purée
4 pasture eggs, lightly beaten
Optional: For a more robust flavor, you may add ham or any other cooked meat (about 4-5 ounces)
Method
Heat an 8-inch skillet over medium heat, add oil, heat oil, and add onion. Cook until soft. Add garlic, tomatoes, and pepper. Stir to combine and cook until the mixture is well blended and most of the liquid has evaporated.
Season to taste with salt and pepper. Stir in tomato purée. Add chayote and cook until just heated through. (*If using meat or ham, add it now.)
Add the eggs and cook, stirring well with a spatula or fork to make sure everything blends in reaching the whole surface of the pan until the eggs are set to your liking.
Serve right away.
From Cuba: Sopa de Elote (Corn Soup)
Beyond picadillo, and cod salt, this soup is fulfilling and rich. For extra touches, add avocado. For a vegetarian version, use vegetable stock instead of chicken.
Ingredients:
Serves 6
4 C corn kernels, preferably fresh; if not possible, use frozen (defrosted)
2 C chicken stock, low sodium (preferably fresh)
1 C light cream or coconut cream
Sea salt and fresh pepper, to taste
2 pasture eggs, lightly beaten, set aside in a bowl
2 T fresh parsley (or cilantro), chopped
Method
In a blender, place corn, and stock, and blend until purée. (You might need to do this in 2-3 batches).
Pour the purée into a saucepan and add the cream. Let it simmer over low heat, stirring occasionally, for about 5-7 minutes.
Strain the purée through a sieve and return to saucepan.
Taste and adjust seasoning, and consistency.
Stir 1/2 cup of the soup into the eggs to temper. Add to soup and cook for 2 minutes, stirring occasionally.
Serve with fresh parsley on top and green plantain chips (recipe follow), if desired.
From Puerto Rico: Green Plantain Chips
This might be one of the most popular bites in Latin America, and it varies from country to country. The difference lies in its preparation. My favorite is this one from Puerto Rico.
Ingredients:
Servings vary
1 large green plantain, peeled and thinly sliced
Vegetable oil or lard for frying
Sea salt
Method
Soaked the plantain slices in water for about 30 minutes. Drain and pat dry.
Prepare a deep saucepan or fryer and fill it with oil (or lard) to a depth of 3 inches.
Heat the oil over medium heat until reaching 325ºF on a frying thermometer.
Drop in the plantain slices and fry until crispy. Remove, place on top of paper towel and sprinkle with salt. Serve right away.
Originally published on VOXXI as Recipes to celebrate Hispanic Heritage Month
BEFORE YOU GO
PHOTO GALLERY
5 Colombian Recipes to Celebrate!