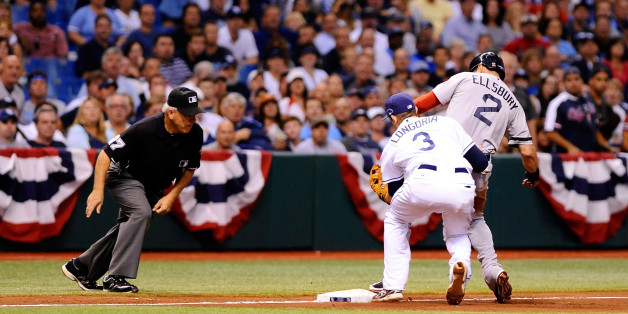 The Boston Red Sox may have been given an extra out due to a controversial call involving outfielder Jacoby Ellsbury during Game 3 of the ALDS against the Tampa Bay Rays.
With one out and Ellsbury on second base after a double, Shane Victorino hit a ground ball to the left side that Rays shortstop Yunel Escobar bobbled. Ellsbury took off for third base and Escobar fired a quick throw to Tampa Bay's Evan Longoria. Instead of sliding, Ellsbury tried to take the base standing up and Longoria laid down a tag on his thigh.
Safe!
Or did third base umpire Larry Vanover get the ball wrong?
Ellsbury scored on a wild pitch during the next at-bat to give Boston a 2-0 lead. Following a ground out, the Red Sox tacked on another with a two-out RBI single by David Ortiz. But should that ground out have ended the inning?