 Musicians' tour riders are notoriously bizarre, with big names requesting everything from buckets of spicy fried chicken to imported and recut Versace towels.
After admitting that she enjoys reading the riders of other artists, indie singer Grimes publicized part of her own tour rider on Monday evening. Grimes, who said that she is still "refining" the rest of her list, "requires that everything is conducted in as green and eco-friendly a manner as possible backstage." She goes on to ban styrofoam, plastic, and foil containers, candy, and bottled water, before requesting a "cute animal."
Check out Grimes' screenshot of her rider, and other musicians' requirements, below.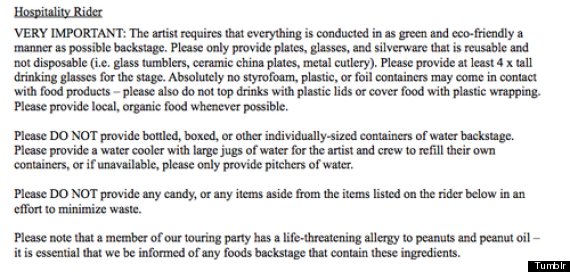 PHOTO GALLERY
Celebrity Tour Riders: They Ask for WHAAA?!