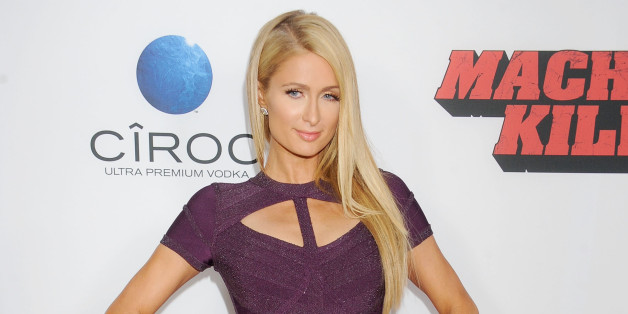 Paris Hilton knows about "haters" who think she doesn't deserve a DJ contract, record deal or any career in music. She just doesn't really care, because she's having too much fun to really notice.
"Ibiza this year was the best summer of my life," Hilton said in a recent visit to The Huffington Post's New York office. "Playing sold-out shows of 10,000 people every night and the fact that everyone was really impressed by my skills. Even a lot of the big DJs who at first might have been like, 'Oh my god, Paris has a residency at Amnesia, this is crazy,' they came and saw me and would be wowed and impressed by my live mixing. I know my software."
The socialite and occasional singer (Hilton released "Paris," her debut studio LP, in 2006; the album spawned the runaway hit "Stars Are Blind") returned to the music industry with a recently announced deal with Young Money Cash Money Billionaires, the rap label with roots in the South but best known to mainstream audiences as the home of Lil Wayne, Nicki Minaj and Drake. On Monday, she released "Good Time," a party anthem about having a good time at a party. The track features Wayne and was produced by Afrojack, a Dutch DJ known for bleepy, big room breakdowns that pulse throughout many of the world's largest electronic dance music festivals. (Hilton and Afrojack, born Nick van de Wall, were romantically linked in the tabloids, but Hilton is now dating model River Viiperi.)
Ahead, we catch up with Hilton about her roots in dance music, her favorite rappers and how she's "never heard an unkind word about 'Stars Are Blind.'"
Let's start general -- you didn't have to make any more music. Why, and why now?
Music has always been a big passion of mine, since I was a little girl. I've always loved to sing and play the piano and the violin. I had so much fun doing my first album, and the fans ask me every single day for a new one. It's just something I love to do.
Does singing come easily to you?
It comes easy to me, yeah. I love being in the studio. I love to write and be creative. It's the perfect outlet for me.
You've obviously gotten a crash course on dance music in the past few years. Who are some of the newer artists you work with, and are there any legends you've always loved?
I've been hanging out in the dance community for years, like since I was 15. I've been going to raves and I go to every single music festival around the world, so I get inspired by all these DJs that I love. Kaskade and Tiesto, who I think have been around the longest. Benny Benassi, Paul Oakenfold. Some of the new guys -- I love Zedd and Nicky Romero, Calvin Harris. It was really fun to play in Ibiza and be playing in the same club as all these guys every week.
You obviously knew you would face a lot of criticism, just given the optics of how famous you are and the fact that you don't make music that often. But do you feel like you're accepted by artists?
I never pay attention to what haters say, because they talk crap about everything. I ignore those people and I make music for my fans and for people who love me. That's all I think about. You live once in your life, and you have to make the most of it. This has been my dream since I was a little girl, and I get to work with amazing people like Lil Wayne, Snoop Dogg and Flo Rida.
Tell me a little bit about where your album goes. Is it mostly big room, progressive house?
My music is great. It's great for the radio, great to play in the club. It's fun dance music, it's upbeat, the drops are amazing. Afrojack did the first single, so he has his sound in there, which is very unique and a lot of fun. It's just a song that gets you in an amazing mood.
How long ago did you get that instrumental?
Over a year ago. We recorded it and then put Wayne on it a few weeks ago.
Did that precede the idea of doing a full album?
No, I actually built a recording studio in my house. I've been recording on and off the past couple of years. But I've been so busy building my brand and traveling around the world and opening stores that I've mostly been focusing on my business. But I love my music and now is the right time to release it.
Your signing with YMCMB was something that was at once unexpected and oddly logical. Who are some of your favorite rappers?
I love Lil Wayne, I think he's amazing, so talented. I love Nicki Minaj, Drake and Tyga. It's like the Cash Money family is really dope. It's just a fun group of people.
Have you talked about working with Nicki?
We're talking about doing some collaborations, yeah.
Is there a particular song that's really come to life for you since you started DJ'ing? Not necessarily one of your own, just something you play out?
Most of the stuff I was playing in Ibiza is new music, but I love throwing in, like, Bingo Players, even if it's a little bit older.
You've weathered your fair share (or more) of publicity "scandals." Is it nice to do interviews about the music?
Yeah, because music is just about love and happiness. I really enjoy talking about it because it's just about having a good time.
Do you feel like our media culture of building people up and tearing them down has gotten worse over the course of your career?
I think that it has definitely gotten worse. With the internet, it's so easy for people to hide behind the computer with fake names. Some people just have no life and go on these sites and post mean comments about celebrities. It's pretty bizarre to me, I don't know how someone can waste their time doing that. It's just on another level now. In the old days, maybe in high school people would be mean, but now the internet is the big playground.
Who else, other than Afrojack, do you want to work with in dance music?
I'm working with Play-N-Skillz, who I just recorded five songs with, and I'm working with Red One when I get back to L.A.
How much of the album is done?
I've recorded about 15 songs in the past two years, but I'm doing all new music now too. The sound just changes so much, so when I get back to L.A. I'm going to be in the studio for, like, a week straight.
Do you feel like people have come around to "Stars Are Blind" in the years since it came out?
Because I already had "Stars Are Blind," which is such a huge, world-wide success, people know me. It's such a timeless song, and people still listen to it. It makes me really happy when I read nice things, because I've never heard anyone say a bad word about "Stars Are Blind." It makes me feel really proud.
When you think down the line, will there be a tour?
I'll be a hybrid of DJing, getting on the mic and maybe jumping on the DJ booth.
BEFORE YOU GO
PHOTO GALLERY
FALL MUSIC PREVIEW 2013