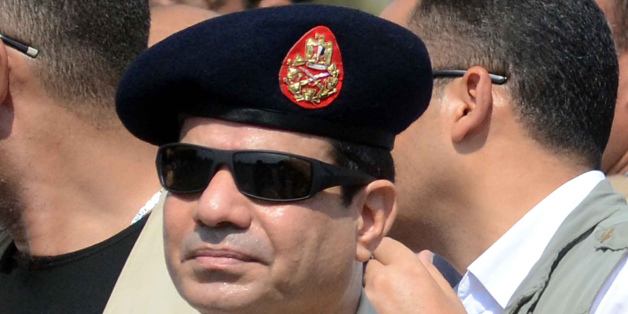 The United States is reportedly planning to cut back much of its military aid to Egypt.
CNN reported on Tuesday that the U.S. was prepared to halt aid to the country, citing an anonymous official with knowledge on the decision. Reuters, citing an unnamed official, reported that the U.S. was "leaning toward" cutting off most military aid.
White House National Security Council spokeswoman Caitlin Hayden responded to the reports.
"The reports that we are halting all military assistance to Egypt are false," Hayden said in a statement. "We will announce the future of our assistance relationship with Egypt in the coming days," but as President Barack Obama told the United Nations General Assembly recently, "that assistance relationship will continue."
Matt Apuzzo from The Associated Press speculated on Twitter that CNN was perhaps on the right track:
The Washington Post reported Tuesday night that an anonymous U.S. official informed the paper that the Obama administration would, within a few days, be reining in most of their nonessential military aid to Egypt.
The Wall Street Journal added that the administration would continue to provide aid for counterterrorism efforts and the defense of Israel.
The White House has faced pressure to halt aid since the Egyptian military deposed democratically elected President Mohammed Morsi in July. Although the Obama administration suspended a portion of Egypt's military aid in August, it has been reluctant to take sweeping action against its longstanding ally in the Middle East. U.S. officials have refused to label Morsi's ouster as a coup, a determination that would legally trigger the cessation of aid.
The months since have been marked by sporadic outbursts of violence. Upwards of 1,000 Egyptians were killed as the military cracked down on widespread unrest in August. More than 600 died on a single day, Aug. 14. The army has become the target of severe criticism for its role in the violence, and for its aggressive prosecution of the Muslim Brotherhood. That included the execution in August of 36 Islamists in its custody.
The U.S. currently sends about $1.23 billion in military aid to Egypt annually.
More from the Associated Press:
BANDAR SERI BEGAWAN, Brunei (AP) — U.S. officials said Wednesday that the Obama administration is poised to slash hundreds of millions of dollars in military and economic assistance to Egypt. The announcement is expected this week, once official notifications have been made to all interested parties.

The U.S. has been considering such a move since the Egyptian military ousted the country's first democratically elected leader in June. It would be a dramatic shift for the Obama administration, which has declined to label President Mohamed Morsi's ouster a coup and has argued that it is in U.S. national security interests to keep aid flowing. It would also likely have profound implications for decades of close U.S.-Egyptian ties that have served as a bulwark of security and stability in the Middle East.

The move follows a particularly violent weekend in Egypt, as dozens of people were killed in clashes between security forces and Morsi supporters.

The U.S. officials spoke on condition of anonymity because they were not authorized to discuss the matter publicly before the administration's official announcement.

President Barack Obama's top national security aides recommended the aid cutoff in late August, and Obama had been expected to announce it last month. But the announcement got sidetracked by the debate over whether to launch military strikes against Syria.

The U.S. provides Egypt with $1.5 billion a year in aid, $1.3 billion of which is military assistance. The rest is economic assistance. Some of it goes to the government and some to other groups. Only the money that goes to the government would be suspended.

Officials told The Associated Press in September that the recommendation calls for a significant amount to be withheld. Those officials spoke on condition of anonymity because they were not authorized to publicly discuss internal deliberations. The money could be restored once a democratically elected government is returned.

While the exact amount to be suspended was up to the president, the principals recommended it include all foreign military financing to Egypt's army except for money that supports security in the increasingly volatile Sinai Peninsula and along Egypt's border with the Gaza Strip, U.S. officials said. Counterterrorism funding may also continue.

Assistance that is used to pay American companies that sell Egypt military equipment would be suspended if Obama accepts the recommendation, but those firms would be compensated with so-called "wind-up" payments that could amount to hundreds of millions of dollars, according to the officials.

On Tuesday, National Security Council spokeswoman Caitlin Hayden denied reports that the U.S. was halting all military assistance to Egypt. "We will announce the future of our assistance relationship with Egypt in the coming days, but as the President made clear at (the United Nations General Assembly), that assistance relationship will continue," Hayden said.

In his speech at the U.N. last month, Obama said the U.S. will continue to offer to support to Egypt in areas such as education. But he said the U.S. has held up the delivery of certain military aid, and said future support "will depend upon Egypt's progress in pursuing a democratic path."

In Cairo, Egypt's military chief Gen. Abdel-Fattah el-Sissi described Egypt's relations with the United States as "strategic" and founded on mutual interests, but cautioned that his country would not tolerate pressure, "whether through actions or hints."

In excerpts from an interview published Wednesday by the Cairo daily Al-Masry al-Youm, el-Sissi — who led the coup that ousted Morsi — offered his own interpretation of where the Obama administration stands.

"We need to be clear here and say they (the U.S.) are keen on continuing the aid and that it is not cut off," he said. "They are trying to take measures that conform with the spirit of the law and deal with what happened in Egypt as the outcome of popular will. ... This is the real problem facing (U.S.) decision-makers in dealing with us on the issue of aid."

Any suspension of assistance to Egypt would follow months of internal deliberation over how to respond to Morsi's ouster, during which the administration has struggled to enunciate a coherent policy.

The administration determined it was not in the U.S. national interest to determine whether a coup had taken place, as such a designation would have required it to suspend all but humanitarian assistance to Egypt. It did delay the delivery of some fighter planes, but as Egypt's military began a heavy-handed crackdown on Morsi supporters — despite U.S. appeals for restraint — the president's advisers started to consider more muscular action. Obama then cancelled a joint military exercise and announced a new review of assistance.