 Gallup finds Washington dysfunction topping the economy and the Republican favorable rating sinking. And AP-GfK shifts to online polling. This is HuffPollster for Wednesday, October 9, 2013.
DYSFUNCTIONAL GOVERNMENT NOW VIEWED AS AMERICA'S BIGGEST PROBLEM - Frank Newport: "Americans are now more likely to name dysfunctional government as the most important problem facing the country than to name any other specific problem. Thirty-three percent of Americans cite dissatisfaction with government and elected representatives as the nation's top issue, the highest such percentage in Gallup's trend dating back to 1939. Dysfunctional government now eclipses the economy (19%), unemployment (12%), the deficit (12%), and healthcare (12%) as the nation's top problem….During the last protracted government shutdown in January 1996, Americans also increasingly said that dysfunctional government was the nation's top problem, but that percentage rose only to 17%, roughly half the level seen today. Back then, Americans were more likely to mention the budget and deficit (28%) than dysfunctional government as the bigger problem." [Gallup]
-Pew Research pollster Michael Dimock: "Rare that you see a 74-year survey trend reach a new record." [Twitter]
GOP FAVORABLE RATING PLUMMETS TO 'RECORD LOW' - HuffPollster: Just 28 percent of Americans have a favorable impression of the Republican Party, down 10 percentage points from last month, according to a Gallup poll. The polling firm called it a 'record low,' noting that 'this is the lowest favorable rating measured for either party since Gallup began asking this question in 1992.' While the Democratic Party isn't popular either, it fared better, with 43 percent of Americans approving of the party -- down a comparatively small 4 points from September. The percentage of Americans rating the Republicans unfavorably also reached a record high of 60 percent, while 49 percent gave the Democrats a negative rating. Remarkably, more than one-quarter of Republicans (27 percent) viewed their own party unfavorably." [HuffPost, Gallup]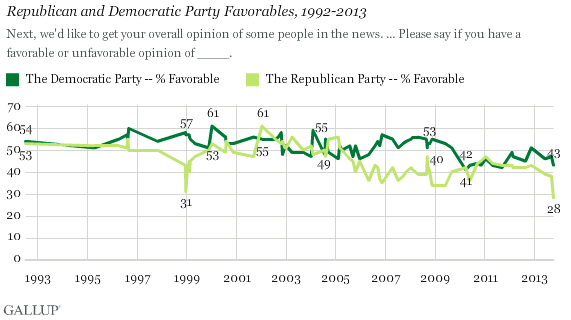 AP-GfK SHIFTS TO ONLINE POLLING - AP polling director Jennifer Agiesta: "The Associated Press-GfK Poll released Wednesday marks the start of a new era for AP polling. From now on, regular polling from the AP and GfK, a global survey research company based in Germany, will be conducted online, interviewing from a unique group of willing survey takers that is representative of all Americans...The science behind polling says that in order for survey research to work, respondents must be randomly selected rather than self-selected and everyone in the population must have a chance of being asked to participate. GfK addresses this by recruiting its panel from a random selection of all Americans with either a telephone or a home. That's pretty much everyone. GfK calls it KnowledgePanel. [AP]
Finds evidence of mode effects - More from Agiesta: Before making the switch for our regular polling, the AP and GfK conducted parallel polls of the American public in April. One used a telephone sample including both landline telephones and cellphones; the other used KnowledgePanel. There were some differences between the two samples due to sampling error, but most significant gaps were the kind pollsters have come to expect due to what are known as 'mode effects.' For example, people sometimes answer questions differently when they're talking to a person on the phone than they do when they're filling out a questionnaire on their own. Research has shown that people are more willing to express opinions that may be unpopular or private when they're filling out a survey by themselves than if they are talking to an interviewer."
And more blaming GOP for shutdown - Calvin Woodward and Jennifer Agiesta: "The Associated Press-GfK survey affirms expectations by many in Washington — Republicans among them — that the GOP may end up taking the biggest hit in public opinion from the shutdown, as happened when much of the government closed 17 years ago. But the situation is fluid nine days into the shutdown and there's plenty of disdain to go around. Overall, 62 percent mainly blamed Republicans for the shutdown. About half said Obama or the Democrats in Congress bear much responsibility. Most Americans consider the shutdown a serious problem for the country, the poll finds, though more than four in five have felt no personal effect." [AP-GfK]
Online surveys find lower approval for Obama - That "house effect" is likely in evidence the new AP-GfK approval rating results for President Obama (just 37 percent approve). Obama's approval was far higher (50 percent) on AP-GfK's last telephone survey in April, but the new poll also found 10 percent who indicated they "neither approve nor disapprove" his job performance. The "neither" response had not risen above 3 percent on 14 previous polls. The lower Obama approval rating -- and the higher number of respondents selecting a middle response or unsure -- is typical of other online polls using different sampling strategies. In recent weeks, for example, the online YouGov/Economist and Ipsos/Reuters polls (using different sampling methods) have shown Obama's approval varying between 38 and 41 percent, though both have shown a slight upticks on their most recent weekly surveys. At the same time, live interview surveys have typically found Obama's approval in the 43 to 46 percent range. [Pollster Obama approval chart filtered for surveys of adults using live interviewers]
HUFFPOLLSTER VIA EMAIL! - You can receive this daily update every weekday via email! Just enter your email address in the box on the upper right corner of this page, and click "sign up." That's all there is to it (and you can unsubscribe anytime).
WEDNESDAY'S 'OUTLIERS' - Links to more news at the intersection of polling, politics and political data:
-Rasmussen finds Chris Christie up 21 points over Barbara Buono. [Rasmussen]
-Democracy Corps (D) finds Democrats leading by 4 points on the national generic House vote. [Dcorps]
-Nate Cohn doesn't buy PPP's test of "generic" Democrats. [New Republic]
-Rothenberg Political Report and the Cook Political Report change FL--13 to a tossup after Rep. Bill Young (R-Fla.) announces his retirement. [Roll Call/Rothenberg, Cook]
-Peter Enns finds the conservative shift in policy preferences since the 1950s extends to all 50 states. [WaPost's Monkey Cage]
-Polls may under-report the size of the gay and lesbian population and anti-gay sentiment. [Pew Research's Fact Tank]
-The British think we're stupid and ridiculous. [YouGov]
-Public Opinion Strategies (R) uses a survey over smart phones to show the photos that Republicans and Democrats take of things they associate with their party. [POS]
-"Psychiatrists Deeply Concerned For 5% Of Americans Who Approve Of Congress" [The Onion]