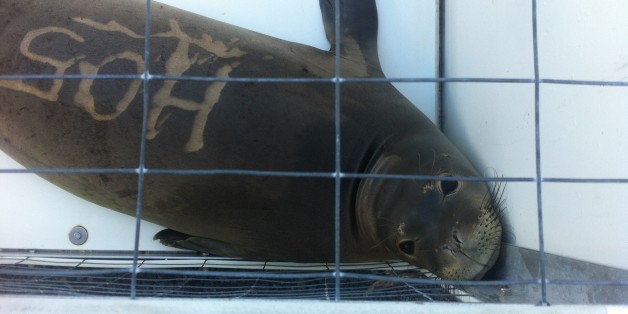 Kamilo the Hawaiian Monk Seal is in time out.
Just like many preschoolers, it seems he confused biting with playing. His chosen playmates? Two triathletes swimming in Kamakahonu Bay on Hawaii Island.
The swimmers were training for the upcoming Ironman World Championship in Kailua-Kona when Kamilo started following and circling them yesterday morning. The seal eventually bit one of them on the knee and the other in the abdomen. The injuries were minor.
Kamilo is a 6-month-old, 100-pound endangered monk seal, who was likely trying to play with the swimmers and meant no harm. But as 2,000 triathletes descend on Kailua-Kona for Saturday's competition, it seemed best to remove Kamilo from the waters.
The Marine Mammal Center dispatched two marine biologists and a veterinarian to catch the pup and take him to safety on Tuesday. He is currently in a cage under the center's supervision until a decision is made about where to take him.
According to Michelle Barbieri, the veterinarian who is overseeing Kamilo's care, the decision has been slightly delayed due to the government shutdown, as officials from the National Oceanic and Atmospheric Association have been furloughed.
Kamilo isn't sweating the shutdown though. "He's adjusting nicely and mostly sleeping," Barbieri told West Hawaii Today. It might even be welcome alone time, as one Marine Mammal Center volunteer reports that Kamilo has been the victim of frequent harassment by humans trying to pet or play with him.
There are only 1,100 Hawaiian Monk Seals left and their numbers are decreasing at a rate of 4% a year. Under the Endangered Species Act, harming a monk seal can result in a fine of up to $50,000 or imprisonment up to one year.
For more information on monk seal protection, visit the Marine Mammal Center website.
BEFORE YOU GO
PHOTO GALLERY
Whales In Action