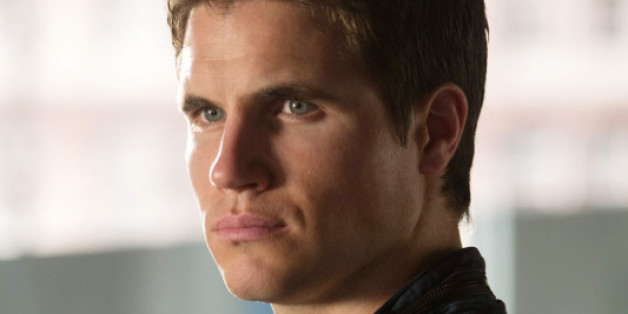 The concept of a super-powered team of misfits banding together to protect themselves is nothing new in pop culture -- just refer back to "Heroes," "X-Men," and, oh yes, a cult British children's show called "The Tomorrow People," which first premiered in 1973.
The CW reimagining of the sci-fi series will be the show's fourth incarnation, hailing from the network's super-producers Greg Berlanti ("Arrow") and Julie Plec ("The Vampire Diaries"), and featuring the impressively chiseled Robbie Amell, cousin of "Arrow" star Stephen Amell and an apt illustration of the show's central conceit: some families truly do win the genetic lottery.
While "The Tomorrow People" clearly isn't reinventing the wheel, it offers a sleek, confident update to a familiar tale, complete with dazzling visuals that wouldn't look out of place in a blockbuster. The premiere has many mythological pieces to put into place, requiring the usual expository info-dumps inherent in pilots, but there are enough lingering mysteries -- and a couple of impressive curve balls -- to lure viewers back for the second episode.
Amell plays Stephen Jameson, a teenager who has recently started hearing voices in his head and inexplicably waking up in bed with his disgruntled neighbors, despite their bolted door. Since medication has failed to stop his strange symptoms, Stephen finally decides to listen to the friendly voice in his ear, leading him to an encounter with the self-proclaimed "Tomorrow People," John (Luke Mitchell), Cara (Peyton List) and Russell (Aaron Yoo) -- a genetically advanced species of human known as "Homo superior" with the abilities of telekinesis, teleportation and telepathic communication.
While the quippy and attractive bunch shed some light onto Stephen's condition, they also have some bad news -- the Tomorrow People are being hunted by a paramilitary group of scientists known as Ultra, led by a geneticist named Dr. Jedikiah Price (Mark Pellegrino). Ultra sees the Tomorrow People as a very real existential threat from a rival species, and will stop at nothing to eradicate them.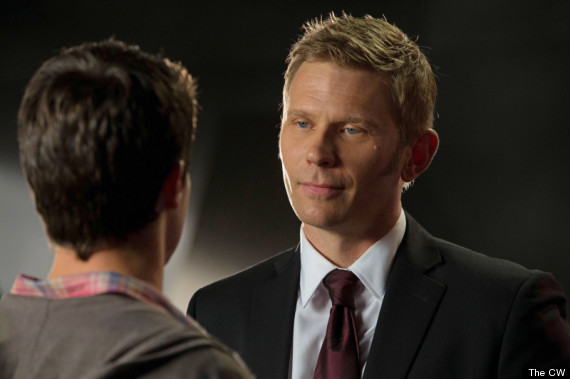 In a recent interview with HuffPost TV's Mo Ryan, Amell admitted that he's thrilled to be working on the same network and night as his cousin, revealing that his new role has allowed them to strengthen the bond they shared when they were kids.
"We were very close when we were young. We both grew up in Toronto. There's a seven-year age gap between us, so when he was 11 or 12, I was four or five. I looked up to him so much, he was my idol," Amell said. "I remember hanging out at his house, playing video games. My first sleepover was at Stephen's house. Then it got to a point where he was 15 and I was eight, so [we saw each other less]. There wasn't a falling out, there just wasn't a common ground anymore. We would see each other at family dinners once in a while, but for the most part we weren't really interacting."
He continued, "I moved out to LA to act, and Stephen moved out about two years after me. We actually didn't know the other was acting until we were already both working in Toronto. We just happened to hear through family. So he moved to LA, and we just fell back into being great friends. We got Kings season tickets, we watch football together. We're both shooting in Vancouver. He's got a little nook in his place in Vancouver, he calls it the Football Nook, it's three TVs and all the football you can imagine."
The "Tomorrow People" pilot has more than its fair share of twists, but Amell revealed that the surprises just keep coming. "I was shocked [by an unexpected event in the pilot] but I was more shocked by something that happened in Episode 3. The writers keep you on your toes. You have to do that now, because everything has been on TV before. Without being obnoxious about it, you need to keep people guessing. There's another huge bomb dropped in Episode 4," he teased.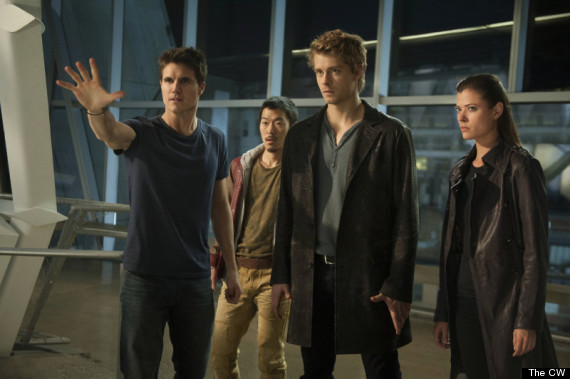 The events of the pilot completely alter his character's trajectory, Amell said, since Stephen transitions from believing he's losing his mind to realizing he's part of something much bigger than himself. "As much as growing as Stephen does in the pilot, it's really just the first step as to what the next portion of his life is going to be about," he said. "Finding out about his super powers and the Tomorrow People -- it's so much information. He transforms so much from the beginning of the pilot, where he thinks he's this screwed-up kid taking medication. Ultimately it's a small step forward on this journey ... There's going to be a lot of decisions, same as in the pilot. Am I doing the right thing? Am I hurting people?"
Fans also won't have to wait long to learn more about the other members of the Tomorrow People, according to Amell. "In Episode 2, you get a little more of the backstory, you get a little more about Ultra. You get to meet another breakout, which is great. And in these first few episodes, you'll see the origins of the other characters. Episode 3 is Cara's backstory, you find out where she came from, it's really interesting. Episode 4 is John's origin story. You find out some of our characters may have had crossovers in the past," he said.
Despite the very different worlds he and his cousin are inhabiting in their CW roles, Amell revealed that he still has hopes that the two will be able to work together someday. "Stephen had a great idea. My dream is to play Batman, and Stephen has a fantastic idea that I'm very behind and he's pitching it to ['Arrow' and 'The Tomorrow People' executive producer Greg Berlanti]," he shared. "Stephen is at Queen Consolidated as Oliver Queen and just in passing, I'm on the phone or getting into a car -- in a suit, decked out -- and he goes, 'Hey Bruce! How are you?' And I give him a nod. And it's never talked about again."
"The Tomorrow People" premieres Wed., Oct. 9 at 9 p.m. ET on The CW.
PHOTO GALLERY
The CW's New Shows 2013-2014