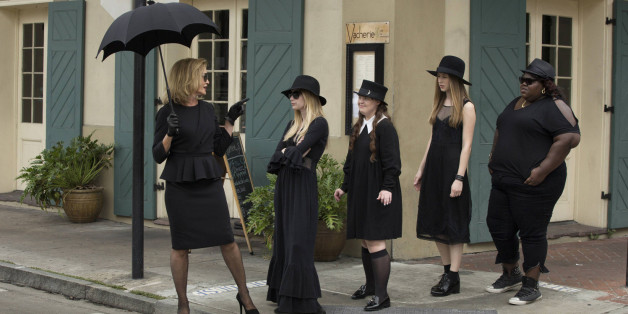 Fiona, the supreme witch played by Jessica Lange, is back in town in "American Horror Story: Coven," and she's up to something. So now what? Warning, spoilers ahead.
"American Horror Story: Coven" ended with Fiona unearthing the still very alive Madame LaLaurie, you know the evil sadist played by Kathy Bates who tortured slaves and used their blood to try and stop aging. She was cursed by Angela Bassett's voodoo priestess Marie Laveau with eternal life, apparently.
Bates said she loves that her character has come to present day New Orleans. "Because for her, imagine coming from a time of slavery -- owning other human beings and having them take care of everything in your life -- and then 100 and whatever years underground ... Then coming into a world where people are equal. And it's just got to blow her mind. She's still a racist, so how Ryan [Murphy] deals with that in modern day, I can't divulge, but it's just beautiful. A beautiful, beautiful thing," Bates told The Huffington Post.
Look for LaLaurie to had back to the school with Fiona. "The arc for [Fiona] is, even though she's the most powerful woman in the world, she is still fighting aging and still struggling with that and doesn't want to die and wants to live forever. She realizes that [LaLaurie] has been given something to make her live forever. She's trying to get to that. She's holding [LaLaurie] for ransom," Murphy told TV Guide. "Interestingly enough, she starts to find out about the horrors of that character, who is a real woman who did everything we showed you -- and worse. She makes [LaLaurie] be [Queenie's] personal slave as payback."
Bates said she was excited to work with Gabourey Sidibe. "Hell yeah, I make her my slave. The thing is, she's from a different time where all she knows is me being a slave and she comes at me like that. 'No, actually you're going to be subservient.' It's really, really fun to have a slave," Sidibe said. "I want to pretend it's not, but it's amazing."
Murphy told Vulture there will be a voodoo/regular witch standoff. "The Salem witches and the voodoo witches have been at war for years and years, but something happens where they question that and wonder if instead they should join forces. They realize there's a common enemy," he said.
Look for Fiona to clash with Frances Conroy's Myrtle Snow. Their feud goes way back. "There's an entire episode where we show she and [Fiona] when they were 18 and at the school and why they became bitter rivals," Murphy said.
And it wouldn't be "Coven" without some Stevie Nicks. Lily Rabe's character, Misty Day, is obsessed with the singer and Murphy said he reached out to Nicks and got permission to use her music. "Lily has an amazing Stevie Nicks shawl twirl scene in Episode 3," he told TV Guide. "We used like eight Stevie Nicks songs this year."
"American Horror Story: Coven" airs Wednesdays, 10 p.m. ET on FX.
BEFORE YOU GO