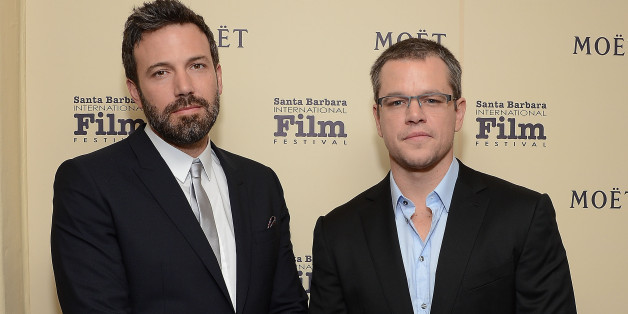 Ben Affleck and Matt Damon have teamed up to executive produce a new half-hour comedy called "More Time With Family," which CBS just landed with a put pilot commitment, according to Deadline.
The comedy will star comedian Tom Papa and will be co-written by "King of Queens" alums Cathy Yuspa and Josh Goldsmith. Reportedly based on Papa's stand-up and the life experiences of Damon, "More Time With Family" will center around a man (Papa) "who changes his career and gives up a life on the road to spend more time at home with his family -- but when he gets there, he realizes no one asked him to do that."
Papa and Damon reportedly conceptualized the show together, with Papa previously having worked with Damon in the Oscar winner's "Behind the Candelabra" and "The Informant." Per Deadline, the duo then went to Affleck, whose production company, Pearl Street Films, is making the foray into TV projects. The trio then met with various writers before settling on Yuspa and Goldsmith, who are under an overall deal with 20th Century Fox TV, which will produce on the studio side.
Last month, it was announced that Affleck would produce and direct the pilot for "The Middle Man" for Fox through Pearl Street, so his collaboration with longtime friend and writing partner Damon on another TV series makes sense.
For more, click over to Deadline.
PHOTO GALLERY
2013 Emmy Winners