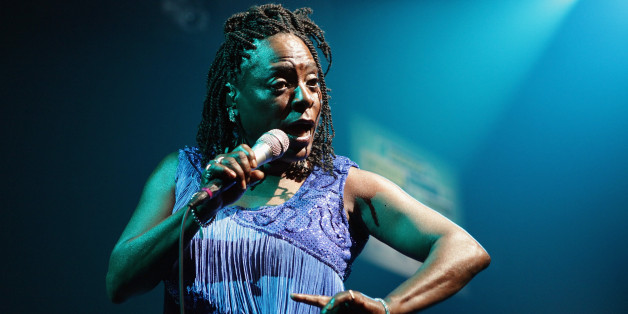 After a harrowing cancer scare, Sharon Jones is back in the game. She and the Dap-Kings announced they will release their postponed album, "Give the People What They Want," on Jan. 14, 2014.
Jones took to Twitter to update fans on her health condition, which turned sour in June when the 57-year-old soul singer announced she would undergo surgery after being diagnosed with stage-one bile-duct cancer. Jones called the surgery "successful" and said she began a six-month chemotherapy regimen in August.
"I wish I could say it's been a breeze, but this is looking to be the most challenging part yet," Jones wrote on TwitLonger. "Thankfully, I'm feeling stronger and more focused on getting back out on stage every day. I want you all to know that YOU are the reason why I am so motivated and driven to stay healthy and work through my recovery."
It looks like Jones' wish to return to the stage is set to come true. She and her Brooklyn-based bandmates have become known as one of the most dynamic live R&B acts around, and on Feb. 6, they'll take the stage at New York's Beacon Theatre.
"The entire Daptone Family is overjoyed and inspired to see Sharon's recovery," writes bassist and bandleader Bosco Mann, in a news post on the band's official site. "Without a doubt, this album is the greatest thing we've ever recorded and I've been anxious for the world to hear it. Everything will culminate in February at the Beacon. That moment when Sharon walks out to join us on stage again is going to be insane."
Sharon Jones and the Dap-Kings also debuted an animated music video for the new song "Retreat." Check it out below, along with the album art for "Give the People What They Want."