We love tacos and we love chocolate desserts. So why wouldn't we be head-over-heels for Taco Bell's D.I.Y. chocolate taco dessert kit, recently spotted on Wal-Mart shelves for just $3?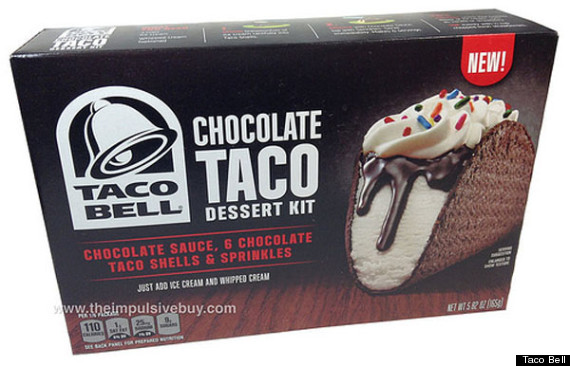 Because they don't taste very good, at least according to several internet reviewers we follow.
"Taking a bite, my overall TASTE reaction is MEH," wrote the blogger behind Junk Food Guy. "With the ice cream, the shell flavor was entirely masked … until more crunching brought forth the corn tortilla flavor, which I wasn't exactly wanting.
Jason Coleman, who runs Bevnerd.com, echoed Junk Food Guy's criticism. "Let's talk about this taco shell: It sucks," Coleman says in the below video. "I barely get any hint of chocolate. ... I get corn, like a real taco shell with a hint of chocolate. I would have must preferred something that tasted like an ice cream cone."
The Impulse Buy's editor-in-chief, Marvo, didn't like the shell, either. "There's a sweetness to them, but the chocolate is hard to detect," he wrote. "The dark brown shells also have a slightly stale texture, which seems strange for a product that just hit shelves, and a corn tortilla chip aftertaste."
We'll stick with Klondike's Choco Taco, we guess.
[h/t That's Nerdalicious]
BEFORE YOU GO
PHOTO GALLERY
Taco Bell New Promotions For 2013