As New Yorkers swoon over their first Umami Burger, Japanese burger chain Lotteria has just one-upped us all. The "With Everything" burger features pretty much anything you can think might taste good with a beef patty -- eggs, cheese, shrimp, bacon, ribs and so much more.
The $11 burger looks pretty overwhelming and gross in real life -- there's just no way you can eat this easily without unhinging your jaw. And does one actually crave a combination of all those foods? We're feeling a bit ill just thinking about it.
Here's the product shot: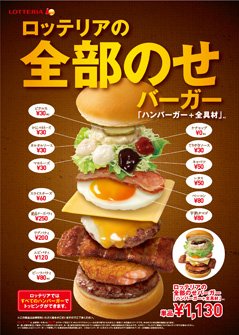 This isn't the first time Lotteria has launched a novelty burger promotion. Let's not forget the five-patty burger of last year, which now seems like it just wasn't big enough. And Lotteria also offered a ramen burger before ramen burgers were cool (in the States at least).
[h/t Grub Street]
BEFORE YOU GO
PHOTO GALLERY
"Fat & Furious Burger" Creations