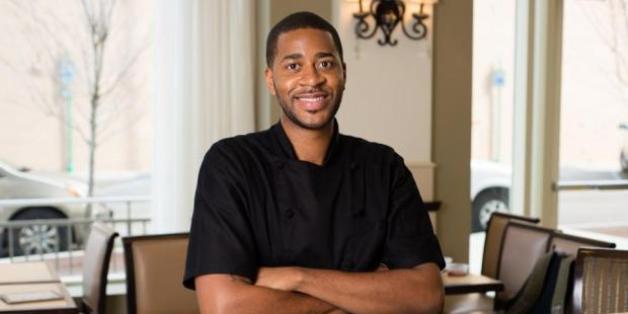 Josh Marks, the "Seven-Foot Chef" best known from season 3 of the reality cooking series "MasterChef," was found dead Friday night in Chicago.
10/14/13 Update: The medical examiner has ruled Marks' death a suicide.
"I don't think people realize the toll the reality show put on him," Marks' stepfather, Gabriel Mitchell, told the Tribune. Family said they didn't notice signs of mental illness in Marks until after "MasterChef" filming ended.
Marks' mother, Paulette Mitchell, said her son was hit hard by his recent diagnosis of schizophrenia following a diagnosis of bipolar disorder earlier this year.
"He couldn't bear the thought of another diagnosis," Mitchell told the paper."He was just coming to accept the diagnosis of bipolar."
Police responded to a call in the city's Longwood Manor neighborhood around 6:45 p.m. Friday reporting a body in the alley. Marks, just 26, was found lying "face-up, unresponsive and bleeding from the head," the Tribune reports.
The South Side resident was pronounced dead on the scene from a self-inflicted gunshot wound according the medical examiner's office. A revolver was found near his body.
Friday night, Chicago-based MasterChef judge Graham Elliot tweeted his condolences:
My heart goes out to the family of #MasterChef finalist Josh Marks, who passed away today. Please send thoughts/prayers their way!
RETWEET

— GRAHAM ELLIOT (@grahamelliot) October 12, 2013
The self-taught chef was ordered to undergo a mental health assessment in August to determine if he was mentally fit to stand trial after he was accused of attacking a cop at the University of Chicago.
Police say the 7-foot-2 Marks allegedly "took the officer to the ground" when approached by police questioning him over visible injuries to his face according to DNAinfo Chicago. Marks struggled with officers and tried to take one of their guns before he was ultimately arrested.
Marks had claimed "MasterChef" star Chef Gordon Ramsay had possessed him and turned him into God.
"The Josh that you are hearing about in police reports this morning is not the spirited Gentle Giant that we know," Marks' attorney said via Facebook following the summer arrest.
As TMZ notes, months before his arrest, Marks revealed his own difficulties with mental illness in a video for the "Make a Sound Project, "an organization dedicated to helping people struggling with suicidal thoughts.
After news of the arrest, however, the LA Times notes several sponsors -- including "Make A Sound" -- coldly dropped Marks and distanced themselves from the troubled star.
"He wouldn't hurt anybody," Marks' mother said. "But he hurt himself."
BEFORE YOU GO
Also on HuffPost:
PHOTO GALLERY
11 Most Polarizing Celebrity Chefs