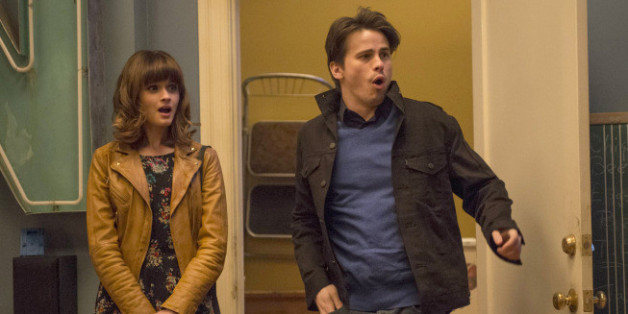 Fans who were looking forward to Alexis Bledel and Jason Ritter's new romantic comedy series "Us and Them" might want to lower their expectations. According to Deadline, Fox has cut the episode order for "Us and Them" from the initially ordered 13 down to the seven already filmed ... never a good sign.
Per Deadline, "Fox says it plans to air the produced episodes and has not cancelled the series, but for all intents and purposes, the show is over, and the cast has been told they can take new jobs."
Last week, the show reportedly went into a planned hiatus two weeks earlier than scheduled in order to work on the scripts, amid rumors that Fox execs had issues with the show's tone. Based on British hit "Gavin and Stacey," "Us and Them" was much sweeter than Fox's other new comedies, "Brooklyn Nine-Nine" and "Dads" -- neither of which have proved to be a breakout hit -- and the male skewing shows the network has for midseason, making it somewhat incompatible with the rest of the lineup (although a natural fit with veteran "New Girl").
Fox has two comedies in reserve for midseason: Chris Meloni's "Surviving Jack" and the recently bumped "Enlisted." Earlier this week, the network canceled animated comedy "Murder Police" -- which was also picked up for 13 episodes -- before airing a single episode.
While Fox is reportedly still set to air "Us and Them" at some point, it's likely to be in a similar capacity to canceled summer series "The Goodwin Games," which also saw its 13-episode order cut to seven before it was burned off between May and July.
The only silver lining to this news is that it potentially frees Jason Ritter for a return to "Parenthood," where he was last seen romancing Bledel's former TV mom, Lauren Graham, in Season 4.
Were you looking forward to 13 episodes with Bledel and Ritter?
PHOTO GALLERY
Fox New Shows 2013-2014