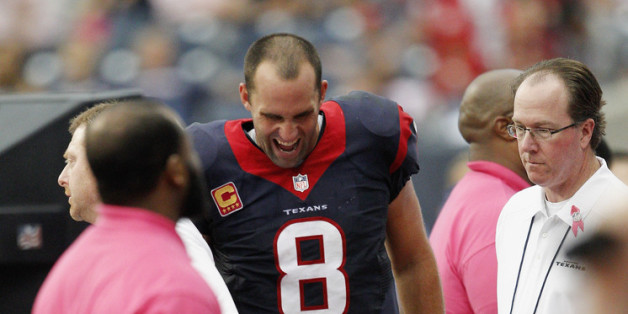 The Houston Texans' pick six troubles aren't limited to Matt Schaub.
After the turnover-prone quarterback went down with an apparent right ankle injury against the St. Louis Rams on Sunday, his back-up took over and promptly threw an interception of his own to Alec Ogletree. The linebacker returned it 98 yards for a Rams' touchdown to keep the Texans' ignominious streak alive
Entering Week 6, Schaub had tossed a pick six in four straight games. Although Texans coach Gary Kubiak kept the beleaguered signal caller in the starting lineup, Schaub's popularity in Houston had reached a potentially dangerous nadir after the team's Week 5 loss to the San Francisco 49ers. The mere sight of Schaub injured on the field seemed to draw a roar -- perhaps even cheers -- from the crowd at Reliant Stadium.
In what may have been a case of instant karma for any fans that cheered an injury, T.J. Yates took the field in Houston and threw a pick six of his own.
Yates finished with two interceptions on 12-for-17 passing as the Texans were throttled by the Rams, 38-13. . After his team's latest loss, Texans wide receiver Andre Johnson unloaded on those who had cheered the injury to Schaub.
"No class," was how Johnson described those fans when asked the game, per Jeff Darlington of NFL.com. "It's bad when members of the other team are saying that's messed up."
BEFORE YOU GO
PHOTO GALLERY
PHOTOS: NFL Week 6