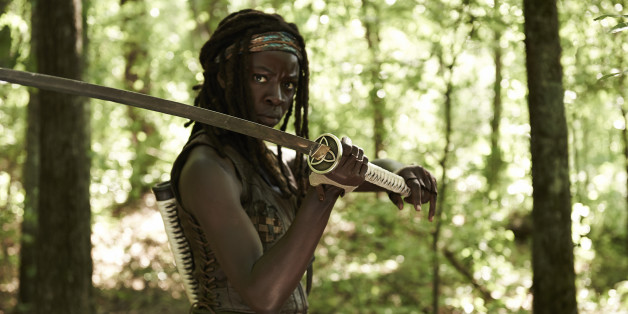 Michonne is the best part of "The Walking Dead." Simply the best. Better than all the rest. Sorry, didn't mean to derail with Tina Turner.
The silent killer played by Danai Gurira is our favorite enigma with a katana on TV today. She's constantly the shot in the arm the zombie series needs (you know what we're talking about) and can stop you with a look.
In celebration of her return to TV and the zombies she'll slay when "The Walking Dead" Season 4 premieres on Sunday, Oct. 13 at 9 p.m. ET on AMC, let's take a look at why she's the best.
1. She gives great side-eye.

2. She's a master zombie killer -- she even killed this one when she was bound.

3. This decapitation.

4. She showed up rocking a hood and was so mysterious it hurt.

5. She wouldn't leave the multi-colored cat (doll? sculpture?) behind and was the cutest with Carl.

6. The scowls.

7. The judging.

8. She's a Jedi. Just kidding, she's not a Jedi. Or is she?

9. This double beheading.

10. We still don't really know anything about her -- there's so much left to learn!

And a little taste of Season 4 ... she gets a horse!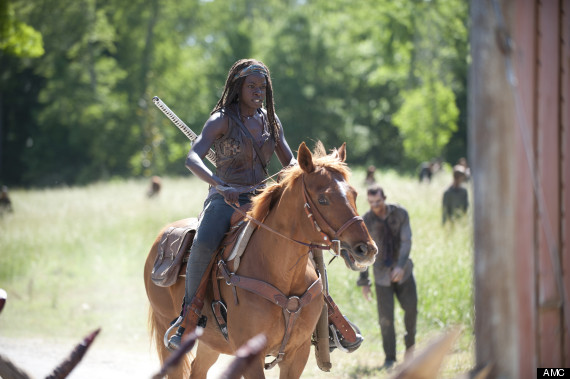 "The Walking Dead" airs Sundays, 9 p.m. ET on AMC.
PHOTO GALLERY
The Walking Dead