A group of student activists from Cooper Union, an arts and engineering college in New York City, has claimed credit for transforming over the weekend a piece of art by U.K. street artist Banksy into a protest against their school's administration.
Banksy is currently in New York City for a month-long "residency" of sorts, in the form of an open-air exhibition titled "Better Out Than In."
After Banksy tagged a piece of concrete near Cooper Union -- where students have been protesting for two years against the administration's move to charge tuition for the first time in the school's history -- activists saw an opportunity.
Banksy's original artwork, titled "Concrete Confessional," depicted what appeared to be a member of the Catholic clergy in a small, enclosed confessional fashioned from concrete construction material at East 7th Street in Manhattan, just outside of one of the Cooper Union buildings.
An altar boy, depicted in an adjacent, similar concrete structure, is something of a mystery, since Banksy only claimed credit on Oct. 12 for the image of the priest, and a photo on his blog did not show the younger character.
At some point over the weekend, a group of unidentified vandals added a beard to the priest, turning him into what blogger Angus Johnston called a "dead ringer" for Cooper Union founder and namesake, Peter Cooper.
Then photos began to surface of the altar boy character, now adjusted to depict Jamshed Bharucha, the current president of Cooper Union.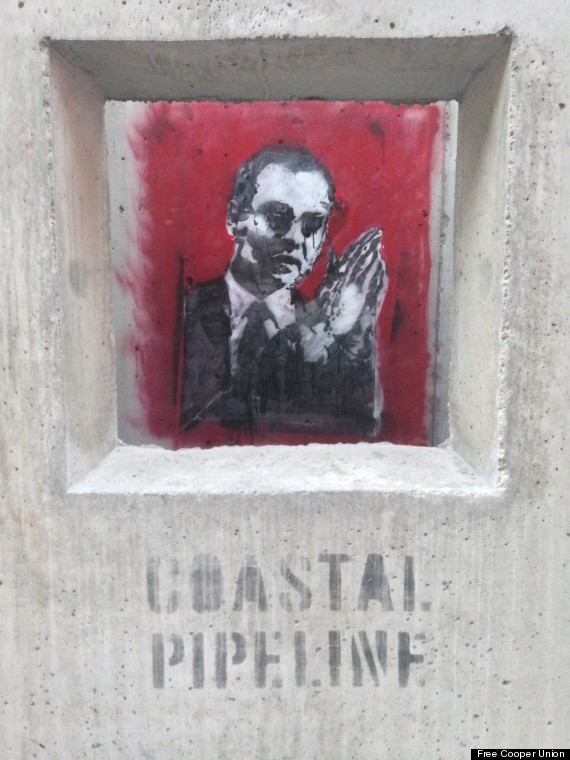 Steve Stoppert, who is not affiliated with the student group, on Sunday posted a photo on his Facebook page that showed a group of college-aged students making some adjustments overnight.
On Monday morning, Free Cooper Union released a statement claiming credit for the alterations:
Free Cooper Union is pleased to present the repentance of Jamshed Bharucha. "Cooper Confessional" depicts Cooper Union's overpaid and visionless President, Jamshed Bharucha, as he confesses his transgression from a historically merit-based full scholarship model, to an expansionist tuition agenda. Hearing Bharucha's lament is Peter Cooper, who founded the Cooper Union in 1859 and established the mission of the institution as necessarily providing free education to all admitted students while educating against the evils of debt.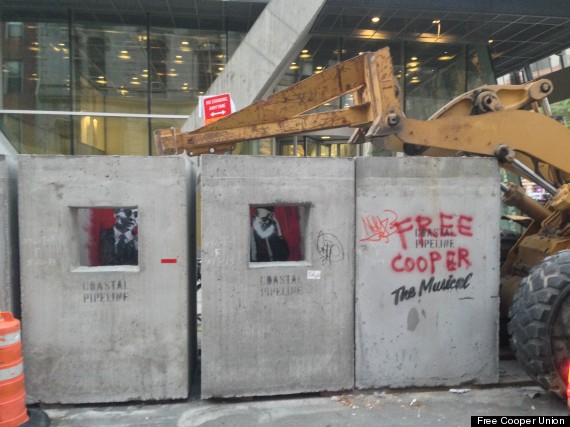 The paintings are flanked to one side by a poster of "Jamshed the Giant," which is a take on the OBEY Giant logo originally designed by Shepard Fairey. On the other side of the confessional are the spray-painted words, "Cooper Union, The Musical" -- a reference to student protesters' dramatic performance of a transcript of a board of trustees meeting. Using the phrase "the musical" echoes Banksy's use of the same tag.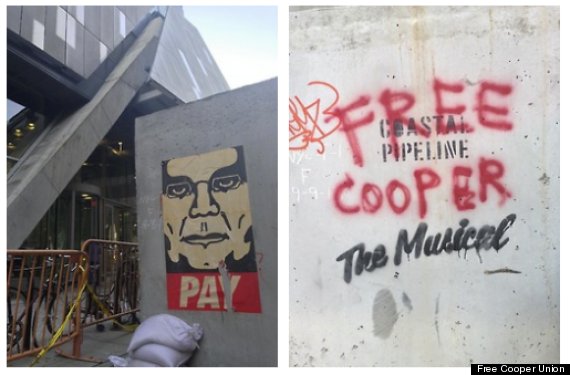 In their statement, the student group cited a quote from Banksy, "There's nothing more dangerous than someone who wants to make the world a better place."