One college football fan got more than he bargained for this weekend when he was escorted from Pennsylvania's Beaver Stadium with a face full of pepper spray.
The Michigan fan was maced by police Saturday during the Penn State home game that ended in victory for the Nittany Lions.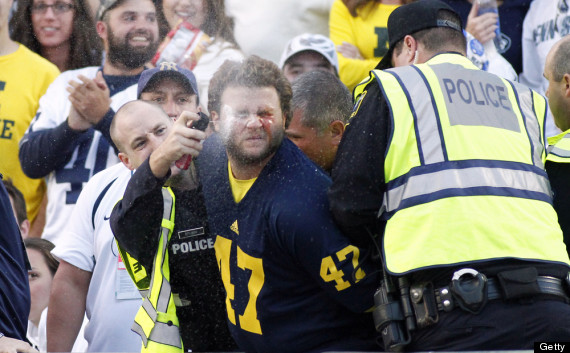 In the incredibly striking image captured by photographer Justin K. Aller, the Wolverines fan appears to have his arms secured behind his back while one police officer sprays him in the face.
While several media outlets questioned what the man could have done to warrant such an action, a reader, who was apparently sitting in the section, told Deadspin the Michigan fan had become confrontational.
Deadspin also obtained footage of the scene that shows the man getting sprayed in the face three times before being forcibly escorted from the stands.
Penn State Police Chief Tyrone Parham acknowledged the incident in a statement released by the university Monday, stating that alcohol was a factor.
Fans in section NL asked an usher for assistance when the man became disruptive and offensive toward them. When the usher tried to eject him from the stadium, he allegedly struck her, which is when police were called to assist. Four officers responded - two from State College and two from Penn State - but when they tried to remove him from the stadium he continued spewing expletives, became physical and resisted arrest. At that point it became a safety issue and that's when the decision was made to use the pepper spray and attempt to handcuff him.
ALSO ON HUFFPOST:
PHOTO GALLERY
BEFORE YOU GO
Unforgettable College Football Season-Openers
PHOTO GALLERY
Unforgettable College Football Season-Openers