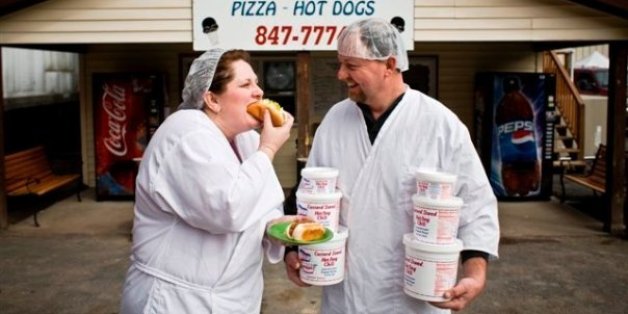 One of the reasons I started my website is that I wanted a place for women to come together and dream. We women need to know that we don't have to hang on to an old dream that has stopped nurturing us -- that there is always time to start a new dream. This week's story is about an enterprising couple who used their resources to turn a secret family recipe into a million-dollar business. Angie and Dee Cowger transformed their three bay car wash into a mini meat manufacturing plant and today, their famous chili is sold at hundreds of major stores around the country. -- Marlo, MarloThomas.com
By Lori Weiss
In the small, one stoplight town of Webster Springs, West Virginia, Angie Cowger grew up walking half a mile to school, cutting through alleys and up the hill, picking up friends as she passed by. And after school, they'd work their way back -- collecting pop bottles they could exchange at the grocery store, making just enough money for their daily stop at the local custard stand.
"It was Elsie's Dairy Bar," Angie explained, "but everyone called it 'the custard stand,' because it had a walk up window and that's what we'd all get there. They sold burgers and pork BBQ, fish sandwiches and French fries too. There weren't any big restaurant chains in town. So Elsie's was the place to go."
The beloved custard stand also sold chili -- a recipe that was created by Angie's grandfather. And while she couldn't have imagined it then, that homemade goodness she watched Elsie hand through the window hundreds of times, would one day make Angie the "Queen of Chili."
"Dad told us," Angie said, "that if I could get a job teaching in Webster Springs, he'd teach my husband Dee how to drive a coal truck. Webster Springs was a big mining town and at the time there were a lot of opportunities. So Dee and I moved back, but we always wanted more out of life. We wanted to do more things and see more places. We were always looking for ways to make money beyond our full-time jobs."
Article continues below slideshow
"So when my family offered to sell us their self service car wash, we took them up on it. And since the building included three apartments, we moved into one upstairs. Early in the morning we'd hear the money going in and the water kicking on. If it didn't, the coal truck drivers and loggers who were washing their rigs would come knocking on our door!"
While the couple could have simply rented out the rest of the building and brought in even more extra income, they began to think about the way they grew up. The two first met in elementary school -- and would often see each other after school at Elsie's.
"There wasn't anything like it in town," Angie recalled. "Elsie had shut down the custard stand in the mid '80s, and a Family Dollar store ended up in its place. She put her equipment in storage, thinking that one day she might want to open another one, but she never did. So we decided to renovate one of the apartments and turn it into a walk-up restaurant. And since everyone's childhood memories were of the custard stand, that's what we named it."
While the crowds quickly started coming, they weren't there for the custard. The couple didn't even sell custard -- opting for soft serve instead. What everyone wanted was grandpa's chili.
"Dee's Mom would come in and make it once a week. She'd make 100 pounds and when it was gone, it was gone. So we had to limit what customers could buy. We'd put it on hot dogs, but that was it, and people weren't happy about it. One day a friend called me mad as a hornet, asking why they wouldn't sell her a gallon for her family reunion. I told her I'd do it for her. But she said, 'That's not the point. I want to buy it whenever I want it without having to call you.'"
That's when the couple looked around and saw the possibilities. They knew they had a great product and at the very least, lots of customers right there in their hometown. And they also had that three bay car wash.
"We didn't know the first thing about manufacturing," Angie said with a smile, "but Dee said, 'Angie, if you think you can sell it, I think I can figure this out.' And I figured that even if we couldn't sell it to supermarkets, we could sell it out the window of The Custard Stand by the gallon."
So Angie and Dee, who by now were the parents of two teenage girls and an eight-year-old boy, sold their coal truck and maxed out their credit cards. And with the help of the West Virginia Department of Agriculture, they turned one of the car wash bays into a mini meat manufacturing plant. They refined their family recipe so that it could be sold in the freezer section of grocery stores around the country, got USDA approval and hit the road.
"I was off from school for the summer, so Dee and I and his Mom would spend Mondays and Tuesdays making chili, putting it in tubs and freezing it. We'd box everything up on Wednesdays and then on Thursdays, Dee and I would mount an ice container on our truck and fill it with chili. I had a map of West Virginia and being a teacher, I put colored stars on all the places we'd travel to."
"We'd go from store to store and ask for the meat department manager. They'd heat it up right there and they'd either tell us to bring in a few cases or to come back another time. I never let the no's get to me. I knew you had to get ten no's before you'd get a yes. And I'd just keep a list and circle back to them later."
That first year, the couple made $55,000 simply by selling to mom and pop shops. It wasn't long before they got the attention of local Kroger and Walmart stores and the car wash was closed for good. They needed all three bays to keep up with the demands of their new chili business.
And then one day, as they were leaving Sam's Club with a cart full of supplies, the club manager stopped them. "She noticed what we were buying," Angie explained, "and asked what in the world we were doing. She said, 'It looks like you're making something.' We were buying tomato paste in number ten cans, buying jugs of onions and all of our spices. We were running that Sam's Club out of merchandise! And so we told her about Custard Stand Chili, and that's when she said, 'We're looking for a local product!'"
And while it all sounds fairly straightforward -- make a good product, learn how to manufacture a lot of it and then sell it locally -- there was definitely a learning curve. Dee was leaving home at 4 a.m. to make deliveries, and often getting back after dark.
The couple needed to find a way to get their product into customer's hands, without it coming directly from theirs. And with their sights set on selling nationally, they knew they had to make some changes.
"Sometimes it's not about the customers. It's about finding people who can get your product to those customers. We worked out a deal with Walmart and Kroger, so that we could begin delivering the chili to their warehouses and they would distribute it from there. But we didn't have a way to get two cases of chili to a corner store in New York."
"So we went to the Fancy Food Show and that's when we really realized how much we didn't know. Someone asked me what our EDLP (Every Day Low Price) was and I said, 'I'm sure we have an EDLP, so after you tell me what that is, I'll tell you what ours is!'"
But today, ten years from the time they took their first road trip, Custard Stand Chili is being sold in more than 200 Walmarts, 140 Kroger stores and 15 Sam's Clubs, along with small grocery stores throughout the country. And the company has both local distributors and national ones.
This year Angie and Dee will sell 1.5 million dollars worth of chili. And that's only half of their revenue. The couple now has two Custard Stand restaurants and four that they've franchised -- where customers can buy as much of grandpa's chili as they'd like. And while they supply their franchisees with most of the recipes behind their success -- the chili remains a Cowger family secret.
"We make sure the restaurants have everything they need," Angie laughed, "but the chili, they get from a distributor! And we make sure all those local stores that believed in us at the beginning still get theirs too. We haven't forgotten where we got our start -- right here in our community. It was all those little stores that we marked with stars, they're the ones who put us on the map."
Add Marlo On Facebook:
Follow Marlo on Twitter:
Weekly Newsletter
Sign up to receive my email newsletter each week - It will keep you up-to-date on upcoming articles, Mondays with Marlo guests, videos, and more!