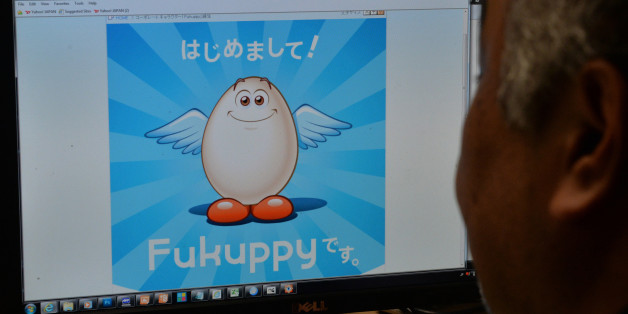 What's in a name? A lot, apparently.
Fukushima Industries Corp. bears no relation to Fukushima Prefecture, the location of an ongoing nuclear catastrophe in Japan. Yet that hasn't halted negative reactions to the company's new mascot, an egg-shaped creature with the unfortunate name of "Fukuppy."
Fukushima Industries, which produces food cooling equipment, is named after its founder. But to netizens this weekend, that distinction made little difference, as they linked Fukuppy to the meltdown at the Fukushima Daiichi nuclear power plant in Japan's northern region that has been characterized by reports of bumbling mismanagement.
The cheerful mascot, which sports red shoes, wings, and an eager yet vacant smile, is described as "a bit scatterbrained" in promotional materials. A report from the Agence France-Presse notes that Fukuppy likely earned its moniker by combining the first letters of the company name, F-U-K, with "happy."
Russia Today reports the correct (Japanese) pronunciation of the mascot's name is "foo-koo-pee." The company later apologized for the unintentional association.
"This time, the name of our corporate character, because of the way it's written, has been regarded as inappropriate, or has been misunderstood among English-speaking people," the company said Tuesday in a release translated by RT. "We sincerely apologize for the fact that we have caused misunderstandings and concerns among many people."
Fukushima's nuclear power plant disaster began in 2011 when an earthquake and tsunami devastated much of northern Japan, causing equipment failures at the power plant and led to the release of highly radioactive material. As a result, many villages and cities near the plant have been declared uninhabitable.
Just a month after the incident, James Acton, associate of the Nuclear Policy Program at the Carnegie Endowment for International Peace, called Fukushima "the most complicated and the most dramatic" nuclear accident the world has ever seen.
BEFORE YOU GO
PHOTO GALLERY
Countries With The Most Vacation Days: 24/7 Wall St.