Illinoisans planning to pack heat when the state's new concealed carry law goes into effect in January should get used to seeing this sign: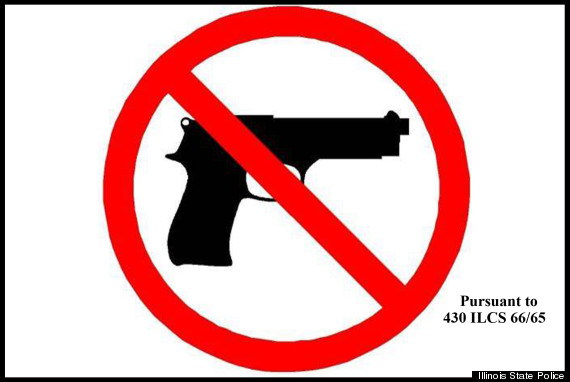 Friday, the Illinois State Police revealed the image as the official "no guns allowed" signage.
By law, owners of any "statutorily prohibited area or private property" (like schools, parks, courts and public transit) are required to clearly display the sign. The ISP has made the sign available for download, and requires it must be at least 4x6 inches when displayed.
Over the summer, the Chicago City Council approved a ban on guns in bars and restaurants that serve liquor as one alderman insisted, "Bullets and booze don't mix."
In Chicago, some business are already jumping the gun on posting the sign. NBC Chicago reports places like Keefer's Restaurant in River North already put up their own versions of the sign to let customers know to leave their guns at home.
Concealed carry permit applications will be available on the ISP website by Jan. 5.
ALSO ON HUFFPOST:
PHOTO GALLERY
BEFORE YOU GO
Pivotal Moments In The Federal Gun Control Debate
PHOTO GALLERY
Pivotal Moments In The Federal Gun Control Debate