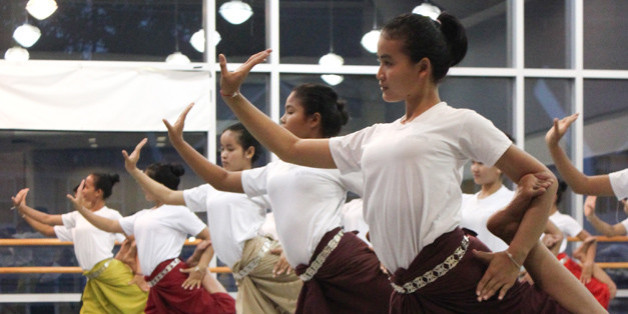 SILVER SPRING, Md. (RNS) It's the only dance troupe trained to bless and dedicate Cambodian temples, including the iconic 12th-century Angkor Wat temple complex, one of the largest religious shrines in the world.
Cambodian dance was nearly destroyed in the 1970s when 1.4 million Cambodians died from starvation, forced labor and mass executions under the Khmer Rouge, the communist regime that targeted intellectuals, the religious and artists.
Now 23 dancers from rural Cambodia are in the U.S., surrounded by saffron-robed monks, statues of Buddha and excited Cambodian-Americans, to rededicate Vatt Buddhikarama, the Buddhist temple in suburban Maryland.
They're in the midst of a four-city tour, rededicating Cambodian temples in Boston, New York, the Washington area and Los Angeles.
"Cambodian-Americans came here as refugees," said Ravynn Karet-Coxen, founder of the Nginn Karet Foundation for Cambodia, a British charity that launched the dance school. "They were firsthand sufferers. So the notion is for us to come here to bridge and bond the American Cambodian back to the motherland: to bond and bridge them spiritually and culturally."
The dancers and seven musicians, ages 12 to 19, come from the UNESCO World Heritage Site of Angkor in Cambodia, considered the largest religious monument in the world. The students live in homes without electricity or running water.
"They're not children from a privileged background, but they're the descendants of the god of Angkor," Karet-Coxen said.
The Preah Ream Buppha Devi dance school aims to revive Cambodia's cultural legacy. By touring the United States, the troupe hopes to heal the trauma of the past, Karet-Coxen said.
The dancers and musicians sleep in Cambodian temples, performing a sacred ritual for the local monks almost every evening. In Washington, they also participated in a cultural exchange with students from the Washington School of Ballet and performed dance rituals around the National Mall.
"We did a very powerful short sacred dance ritual in front of the White House to pray for peace and to pray for all the children in the world, to pray for the children in Syria and to pray a very special prayer to say thank you to America for having taken so many Cambodian refugees in our time of hardship," Karet-Coxen said.
Cambodian classical and folk dance harks back to the 12th century, during the reign of King Jayavarman VII, a Buddhist king whose 3,000 dancers urged the gods to bless the land, Karet-Coxen said.
"You dedicate your life," Karet-Coxen said. "You dedicate it to your god. It's not about religion, it's about spirituality. It's about the power of the prayer, the power of the dedication."
BEFORE YOU GO
PHOTO GALLERY
Buddhas Around the World