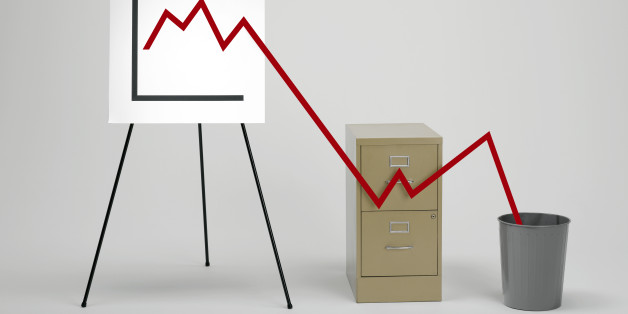 Polls show the victims of the government shutdown include economic confidence and the Tea Party. The debt ceiling law is a loser among those who claim to understand it. And we are shocked that dueling Democratic and Republican automated pollsters reached different conclusions about the results of their Senate battleground polls. This is HuffPollster for Wednesday, October 16, 2013.
SHUTDOWN CREATES ECONOMIC CONFIDENCE SLIDE - The most vivid trend created by the government shutdown has been a pronounced decline in consumer confidence. Jeffrey Jones, writing on Monday, before an agreement was reached: "As the government shutdown continued for a second week and Washington leaders scrambled to avoid a default on U.S. debt obligations, Americans' confidence in the economy continued to erode last week. Gallup's Economic Confidence Index averaged --39, down five points from the prior week. That followed a 12-point drop during the first week of the government shutdown. The --39 index score last week is the lowest Gallup has measured since late November/early December 2011. That was part of a long slump in economic confidence that began in July 2011 amid negotiations to raise the federal debt limit...Last week, an average of 71% of Americans said the economy was getting worse, while 25% said it was getting better. The resulting --46 economic outlook score is down 24 points in the last two weeks, and 35 points in the last month." [Gallup]
Daily decline - Gallup reports its economic confidence index on a daily basis, and the current chart shows the rapid decline over the last 16 days that parallels similar declines following the financial industry meltdown of September 2008 and the debt ceiling debacle of August 2011. [Gallup]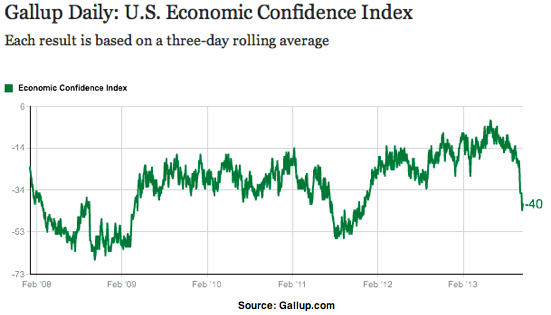 What next? - Jones: "The previous Washington struggle over the debt limit helped spur a protracted slump in Americans' economic confidence, which lasted nearly five months. That slump took place at a time when the government was still operating, but also as the unemployment rate was significantly higher than it is now and the stock market was not nearly as strong. Thus, one key to whether economic confidence continues to decline to the --50 range last seen in 2011, or begins to recover, is how the financial markets react to any agreements the government makes to end the government shutdown and increase the federal debt limit." Optimism that lawmakers had agreed on a deal on Tuesday led to a stock market surge on Tuesday, with the Dow Jones Industrial average rising by over 200 points.
WIDESPREAD CONFUSION OVER DEBT CEILING - HuffPost: "With a deal to extend the nation's debt ceiling and prevent the United States from defaulting on its debt now appearing all but certain to pass through Congress, a new HuffPost/YouGov poll shows that many Americans hold misconceptions about what raising the debt ceiling actually does. Thirty-nine percent of respondents to the new poll said they believe raising the debt limit would directly raise government spending and increase the amount of debt held by the U.S. Slightly more -- 42 percent -- said it would allow the U.S. to pay interest on its debt and cover any spending Congress had already authorized. Another 20 percent said they weren't sure. In fact, the debt ceiling does not authorize any government spending." [HuffPost]
TEA PARTY HITS NEW LOW - HuffPost: "Unfavorable views of the tea party have nearly doubled over the past two years, making the conservative movement more unpopular than ever, a Pew Research survey released Wednesday finds. Forty-nine percent of Americans now view the tea party unfavorably, while just 30 percent view it favorably -- an 11-point net drop since just this June. The loss of esteem crosses party lines. A bare majority of Republicans still view the tea party favorably, while 30 percent of independents and 13 percent of Democrats do." [HuffPost]
QUESTIONABLE INTERNAL POLL IN SOUTH DAKOTA - David Montgomery: "On Monday night, Stace Nelson's U.S. Senate campaign put out an automated call to 837 South Dakota Republican households and got results that made Nelson pretty happy. In a head-to-head matchup between Nelson and frontrunner Mike Rounds, 40 percent of those longtime Republican primary voters picked Nelson. Rounds had a double-digit but surmountable lead at 54 percent support…. If a public pollster like Gallup were polling the South Dakota race, they'd simply ask respondents whether they preferred Mike Rounds or Stace Nelson in a head-to-head matchup. Asking Republican voters to choose between the 'conservative Stace Nelson' and the 'moderate Mike Rounds' nudges any of them who identify as conservative to pick Nelson." [Political Smokeout]
PPP (D) also released a poll, conducted for Democrat Rick Weiland - From the report: "-PPP's newest South Dakota poll finds that the race has tightened since the summer, with Republican Mike Rounds now winning by only 6 points. He's at 40% to 34% for Democrat Rick Weiland, with Libertarian Kurt Evans polling at 11%." [PPP]
DUELING SPONSORED POLLS IN SENATE BATTLEGROUNDS - On the left - PPP's Tom Jensen, for Americans United for Change: "New PPP polls of 6 key Senate races that will determine control of the body after next year's election finds voters extremely unhappy about the government shutdown. As a result Republicans trail in 5 of the 6 key races and are tied in the 6th.….In Georgia voters oppose the shutdown 61/31, and it's just another factor helping make this seat competitive for Democrats next year....In Louisiana Mary Landrieu leads Republican challenger Bill Cassidy 48/41 for
reelection….In Arkansas Mark Pryor leads Republican challenger Tom Cotton 44/41."
[PPP]
On the right - Harper Polling (R), for American Crossroads: "American Crossroads, a Republican super PAC, commissioned polls of four red states where Republicans can pick up Senate seats in 2014, and more than a year away from the race and before the real campaign's even begun, the situation is looking good for GOP candidates in all four states. In Arkansas, freshman representative Tom Cotton trails incumbent senator Mark Pryor, but by just three points, within the margin of error — and Pryor is at 45 percent of the vote, well below what an incumbent wants….The situation is similar in Alaska, where Democrat Mark Begich is up for reelection next year, and Louisiana, where Democrat Mary Landrieu is defending her seat….In West Virginia, where Democrat Jay Rockefeller will not be running for reelection in 2014, the likely Republican candidate, Representative Shelley Moore Capito, is demolishing the likely Democratic candidate, Secretary of State Natalie Tennant, 51–34." [National Review]
To repeat that Arkansas result… PPP found Pryor leading Cotton by three points. Harper found Pryor leading Cotton by the exact same margin. The only difference? PPP says this is good news for Pryor. Harper says it's good news for Cotton.
And about that PPP Georgia poll...
-Harry Enten: "So last PPP poll was 71% white in GA, which @nate_cohn critiqued... This one was 62% white." [@ForecasterEnten]
-Nate Cohn: "yeah, I'm writing about that tomorrow after the shutdown. Really ridiculous, given their long-winded defense." [@Nate_Cohn]
-Logan Dobson (R) - "per PPP, Georgia has become 9% less white in the last 2 months. What's goin' on down there guys?" [@LoganDobson]
HUFFPOLLSTER VIA EMAIL! - You can receive this daily update every weekday via email! Just enter your email address in the box on the upper right corner of this page, and click "sign up." That's all there is to it (and you can unsubscribe anytime).
WEDNESDAY'S 'OUTLIERS' - Links to more news at the intersection of polling, politics and political data:
-A survey by Stan Greenberg (D) sponsored by Women's Voices Women's vote finds support for Obamacare. [WVWV]
-The Oneida Indian Nation commissions a poll showing a majority of DC area adults say Native Americans have a right to feel offended if called "redskin." [USA Today]
-Gary Langer discusses why Americans rejected the "Kamikaze politics" of the shutdown. [Bloomberg]
-Margie Omero will be live tweeting comments about the shutdown tonight from a focus group of "Walmart moms." [@MargieOmero]
-David Hill is less concerned with today's polls about the shutdown than with "the consequences that will influence polls taken in 2014 and 2016." [The Hill]
-Mark Mellman goes biblical on GOP shutdown tactics. [The Hill]
-Kristen Soltis Anderson (R) applies game theory to understand the shutdown debate. [KSA]
-Harry Enten says we can trust Gallup's numbers again. [Guardian]
-Sean Trende ponders what voters know, how we judge it, and whether they "get it right." [Cato]
-AAPOR posts a series of video interviews with luminaries of the survey profession. [AAPOR]
-Google Consumer Surveys announces "long(er) surveys" of up to 10 questions at a time. [Google]