North Korea repainted a small number of cargo planes from its state-owned airline in camouflage colors and flew them above Pyongyang during a military parade, Washington-based North Korea news site NKNews reports.
The outlet suggests that the planes' makeovers may have been an attempt to exaggerate the strength of North Korea's air force during a highly publicized Victory Day event in July marking 60 years since the Koran War armistice.
This wouldn't be the first time the authenticity of North Korea's military hardware has been called into question. After recent military parades in Pyongyang, analysts and government experts studied high-definition photographs of the regime's missiles and determined them to likely be fakes that could never withstand flight.
(Story continues below.)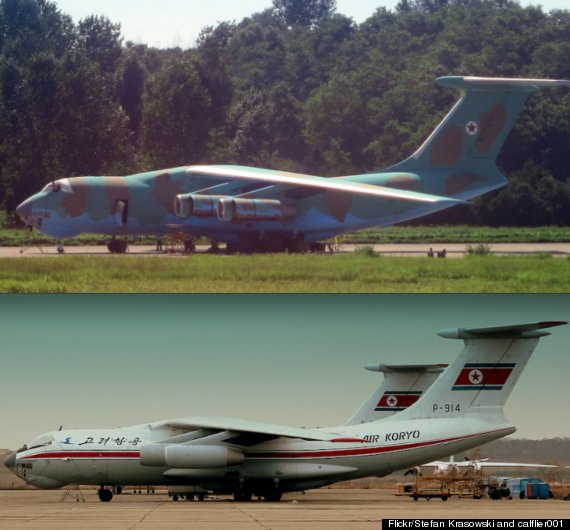 A photo of a camouflage IL-76 taken during North Korea's Victory Day in July (above.) Below, a similar model of IL-76 in Pyongyang last year. Photos via Flickr/Stefan Krasowski and Flickr/calflier001.
Recent photos of the planes at a Moscow airport appear to show the camo paint beneath a new layer of white paint, suggesting that Kim Jong Un's regime was forced to borrow IL-76 jets from Air Koryo, the country's state-run civilian and cargo carrier.
Visit NKNews to see a side-by-side comparison of those two photos.
The notoriously isolated Hermit Kingdom has traditionally spent a disproportionate amount of its national income on its military. Such expenditures often come at the expense of its largely impoverished population, which suffers from acute food shortages in spite of millions of dollars in international aid.
But North Korea's army may still be hurting financially, according to some reports. In his memoir about living in North Korea for nearly 40 years, U.S. Army veteran Robert Jenkins describes how his children had to pull guard duty at school to prevent robberies.
"The primary class of thieves they are guarding against is the army," Jenkins writes. "Soldiers would steal anything they could get their hands on, but what they wanted most of all from the school was the preserving alcohol used during science experiments ... to put into the radiators of their tractors, since they didn't have any proper antifreeze."
WATCH: North Korea's Victory Day military pageant, which took place in late July.
Visit NBCNews.com for breaking news, world news, and news about the economy
WATCH: YouTube user Ray Cunningham filmed a flight he took on Air Koryo.
BEFORE YOU GO
PHOTO GALLERY
Yongbyon Nuclear Complex