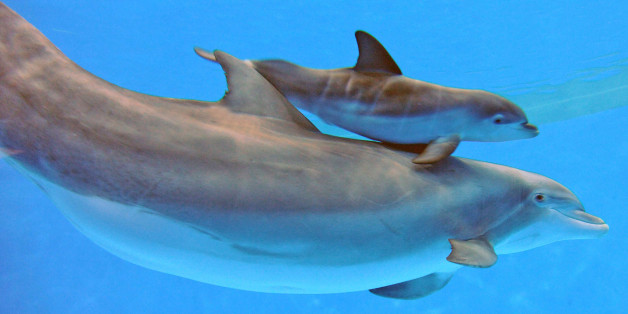 The Brookfield Zoo welcomed a new baby bottlenose dolphin into its fold on Wednesday.
According to a statement from the zoo, the male calf was born to mom Tapeko, 31, weighing roughly 40 pounds and measuring just 3.5 feet long.
(See photos of the newborn baby dolphin "slipstreaming" with mom, below)
Zoo officials say they are "cautiously optimistic" about the calf's health.
"We know that the first 30 days are extremely critical in the calf's life," Rita Stacey, marine mammal curator for the Chicago Zoological Society, said in a statement. According to Stacey, newborn dolphins in that demographic have the highest mortality rate of any other age group among dolphins both in the wild and in zoos.
In August, a newborn female bottlenose dolphin calf died less than a week after it was born at the Chicago-area zoo.
As the new calf awaits a name, the zoo said he is bonding with Tapeko and other dolphins off-exhibit. Meanwhile, the zoo says the Seven Seas exhibit remains open.
PHOTO GALLERY
Baby Dolphin Born At Brookfield Zoo
BEFORE YOU GO
PHOTO GALLERY
Snow Leopard Cub Is A Cuteness Overload