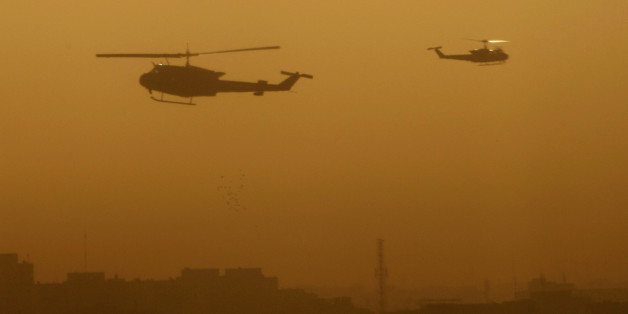 We unveil a new poll tracking model for Virginia (and beyond). A controversial study on the death toll of the Iraq War gets an update. And we add a little detail on how partisanship colors perceptions of the debt ceiling. This is HuffPollster for Friday, October 18, 2013.
UPDATING A CONTROVERSIAL IRAQ DEATH TOLL STUDY - Michael Todd: "A new study with a controversial back story attempts to provide a good answer. Writing today in the journal PLOS Medicine, the University of Washington's Amy Hagopian and 11 co-authors estimate that roughly 461,000 Iraqis died as either a direct or indirect cause of the war and subsequent military occupation. But reflecting the tortured effort both of getting good numbers from a war zone and the history of controversial past counts, by the time all their calculations had settled the researchers put their "confidence interval" for possible excess deaths between March 2003 and June 2011 at between 48,000 and 751,000….These new figures using "cluster sampling" methodology are a dramatic recalculation of numbers published in 2006 in The Lancet, a paper that used similar methodology and an author, Johns Hopkins epidemiologist Gilbert Burnham, with the PLOS Medicine study. The Lancet paper arrived at a figure of 601,000 violent deaths for just the first three years of the war. Red-faced Coalition politicians squawked at that finding, but so did observers like IBC and the American Association for Public Opinion Research, who individually and jointly criticized the methodology, the smell-test-failing outcome, and the researchers' lack of transparency. The resulting controversy even gets its own Wikipedia listing." [Pacific Standard]
More on the methodology - Joseph Brownstein: "To conduct the household surveys, researchers worked with volunteer Iraqi scientists and improved on the methods used for similar surveys in the past. Because the survey was conducted in mid--2011, researchers were able to access more areas of the country safely. The households surveyed were chosen by a grid placed on Google Maps, and a home was selected by a quadrant in that grid from randomly generated numbers. Ultimately, the researchers were able to survey twice as many areas as previous studies and had a more random selection of homes, avoiding the past problems of home selection by the survey takers on the ground, who may have been more likely to approach homes along more-traveled streets." [Al Jazeera]
NEW POLLSTER VIRGINIA POLL TRACKING MODEL - Starting Friday, the Pollster chart on the 2013 Virginia governor's race incorporates a more sophisticated model to estimate trends in support for each candidate. We will apply a similar model to the chart for the New Jersey Governor's race early next week and, eventually, to most or all of our polling charts.
Previously, our charts used something called loess regression analysis to reduce the variability inherent in individual polls. The new technique, developed by Stanford University Professor Simon Jackman, builds on the model that we used to track the 2012 presidential election, which combined national and statewide data to estimate the standing in each battleground state. The Virginia model we unveil differs mostly in that it draws only on polling data from the Virginia race.
The new HuffPost poll tracking model has several advantages over our classic approach: It deals with the fact that different polls have different sample sizes, and so not all polls contribute equally to the model's estimates. The model also helps correct for "house effects," the tendency for some survey houses to produce estimates that are systematically higher or lower for one candidate than other pollsters. Our correction pulls results toward the "industry average" for all pollsters (not polls) in Virginia. If a single pollster does a lot of polling and shows a consistent house effect, our model will reduce the impact of those polls on the overall estimate.
Perhaps most important, by running a series of simulations (known commonly as the Monte Carlo method), the model allows us to quantify the uncertainty associated with the current polling snapshot. As Jackman has explained previously, that uncertainty comes from multiple sources: (1) sampling error in the polls themselves; (2) uncertainty about the house effect corrections; (3) uncertainty about how quickly vote intentions are changing.
We represent the uncertainty in the chart through color bands around each trend line showing the potential variation in each estimate. For example, the chart currently shows McAuliffe leading Cuccinelli, 44.6 to 37.3 percent. The model tells us that there is a 95 percent probability that the current polling snapshot falls between 41.5 and 48. percent for McAuliffe and between 34.4 and 40.3 percent for Cuccinelli. Accordingly, because these confidence bands do not overlap, we are extremely confident that McAuliffe is currently leading Cucinelli.
And if you like our classic loess regression trend lines, you can still see them. just click on the "Create Your Own" tab at the top of the chart, which also allows you to filter pollsters, change the sensitivity setting used to plot the line and adjust the axis ranges for the chart. Notice that we also recently added the ability to filter the classic chart by the population sampled (like voters, registered voters or adults). [Pollster]
More on the new Marist/NBC Virginia poll - NBC's First Read: "Of course, Cuccinelli came into this contest with his own issues...Yet there's a larger political point to make about Virginia: It has become a microcosm of the GOP's woes. The party nominated the more conservative candidate over potentially a moderate one (due to the state's nominating convention instead of a primary). And it has a damaged brand in this key swing state (let us repeat, the GOP's fav/unfav is 32%--62%). If the party can't win this state in 2016, it is VERY difficult to get to 270 electoral votes. Oh, and guess who is campaigning for McAuliffe tomorrow in Virginia -- Hillary Clinton." [NBC]
SHUTDOWN HURT MANY AMERICANS - Emily Swanson: "The government shutdown is finally over, but not before inflicting pain on millions of Americans, according to a new HuffPost/YouGov poll. Forty-four percent of Americans in the survey said the shutdown had hurt their families, including 19 percent who said it hurt a lot. Forty-six percent said it made no difference, and 5 percent said it helped. The poll was conducted Oct. 15 and Oct. 16, before Congress reached an agreement that ended the shutdown." [HuffPost]
COULD GOP LOSE THE HOUSE IN 2014, CONT'D - David Wasserman: "Given the GOP-tilted nature of the congressional map and the dynamics of midterm turnout, we have always maintained that House Republicans would need to engage in some spectacularly self-destructive behavior in order for Democrats to have any shot at netting 17 seats and a majority next November. Over the 16-day course of the government shutdown, House Republicans flirted with just that….Even after our 15 ratings changes today, there are only 18 GOP-held seats in Lean Republican, Toss Up, or Lean Democratic. In other words, Democrats would not only have to hold all of their own seats (including 10 races in Toss Up), but 'run the table' on vulnerable GOP seats in order to win a majority. If damage to the GOP proves long-lasting, we could expect to see more previously 'safe' GOP seats move into competitive categories, and previously competitive contests lean towards Democrats. We could also expect fortunes of vulnerable Democrats to improve. Continued Republican self-harm could indeed threaten their 17-seat majority. But, Democrats still have a long way to go." [Cook Political]
MISPERCEPTIONS & THE DEBT CEILING, PART II - Wednesday's HuffPollster noted the result from a new HuffPost/YouGov poll showing that many Americans "hold misconceptions about what raising the debt ceiling actually does." When asked to choose, 39 percent said raising the debt limit would directly raise government spending and increase the amount of debt held by the U.S, 42 percent said it would allow the U.S. to pay interest on its debt and cover any spending Congress had already authorized and 20 percent were unsure. In fact, the debt ceiling does not authorize any government spending. Our article also noted that **misperceptions were "more common among Republicans, 58 percent of whom said they believed raising the debt ceiling would directly raise the debt**." Pluralities of Democrats and independents answered the question correctly, although about a third of respondents in each group thought that raising the debt ceiling would directly raise the debt. [HuffPost]
Misperception or motivated reasoning? - An additional tabulation sheds some light on how confusion and partisanship combine to create these results. Among Democrats and independents, respondents with a college education were more likely to choose the correct response, that raising the debt ceiling would allow the U.S. to pay more interest on debts. Among Republicans, however, the pattern was different. Those with a college education were more likely to say that raising the debt ceiling would directly increase government spending (67 percent) than those with a high school education (43 percent).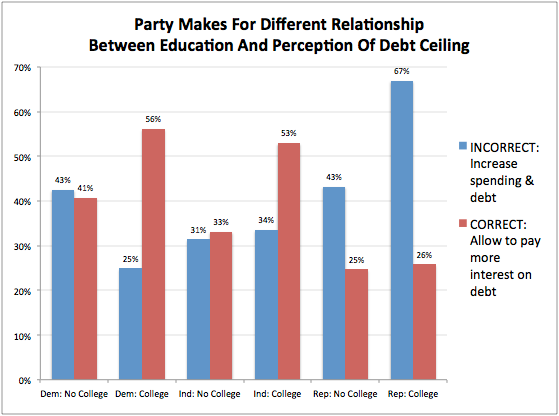 "The fact that misperceptions about the debt ceiling are more prevalent among college-educated Republicans," says political scientist Brendan Nyhan, "is disturbing but it should not be surprising." Nyhan, who specializes in the study of political misperception, notes via email that past studies have shown an inconsistent relationship between education or political knowledge and misperceptions. "The problem is that people who are more knowledgeable are also better able to seek out, accept, recall, and defend ideologically congenial beliefs even when those claims are not supported by the available evidence."
HUFFPOLLSTER VIA EMAIL! - You can receive this daily update every weekday via email! Just enter your email address in the box on the upper right corner of this page, and click "sign up." That's all there is to it (and you can unsubscribe anytime).
FRIDAY'S 'OUTLIERS' - Links to more news at the intersection of polling, politics and political data:
-Nearly half of Americans (43 percent) now own either a tablet computer or an e-book reader. [Pew Internet]
-Pew Research finds trust in government at a near low, though federal agencies remain popular. [Pew Research]
-Frank Newport says that, for now, the American people are both winners and losers from the shutdown. [Gallup]
-Bill McInturff (R) posts his "after action report" on the government shutdown. [POS]
-Economists fear "flying blind" without government data from October. [NPR via @JoshdelRosa]
-Lori Weigel (R) posts a new survey showing that public park closures were the most visible symbols of the government shutdown. [POS]
-Amy Walter proposes primary election reform as a solution to polarization; John Sides says it won't work. [Cook Political, WaPost's Monkey Cage]
-Most Americans, Sides finds, are not like Antonin Scalia.[Monkey Cage]
-Nate Cohn creates an alternate electoral map for a universe where 11 state secession attempts succeeded. [TNR]
-Big data, says Bryan Melmed, is like cocaine. [Research]
-America's most popular baby names, mapped across the decades. [Jezebel]
-Really, that data geek in your life probably won't enjoy a pie chart rug. [Swiss-Miss via @InsightsGal]