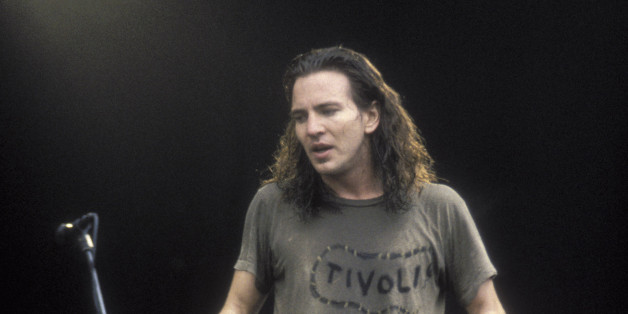 Troubled souls unite: On Oct. 19, 1993, Pearl Jam released "Vs.," the band's follow-up to their smash-hit debut album, "Ten."
The 12-track record, which spawned Pearl Jam hits like "Daughter" and "Elderly Woman Behind The Counter In A Small Town," was a phenomenon: "Vs." sold 950,378 copies during its first week of release, the most of any album ever at the time, breaking a record set by Guns N' Roses. After 13 days, 1.3 million people had purchased "Vs."
"The second record, that was the one I enjoyed making the least," Pearl Jam lead singer Eddie Vedder told Spin in August of 2001. "We didn't record it in Seattle, and it was just like being on tour. I just didn't feel comfortable in the place we were at because it was very comfortable. I didn't like that at all."
Despite that initial apprehension from Vedder, songs from "Vs." have become staples of Pearl Jam's live concerts. On Friday night at Brooklyn's Barclays Center, for instance, Pearl Jam played "Vs." tracks "Dissident," "Elderly Woman," "Daughter," "Rearviewmirror" and "Indifference" (the album's closing track also concluded the concert). The crowd went wild for each one, screaming the lyrics back at Vedder.
There is one "Vs." track, however, that the band all but stopped performing after its mid-90s boom: "Leash." After playing the song dozens of times from 1991 to 1994, "Leash" disappeared from Pearl Jam set lists.
"No one knows for sure why they don't play 'Leash,'" a Pearl Jam message board member wrote in May of 2006, just over 12 years after the last "Leash" performance. "They didn't play 'Why Go' from 1996 up until 2003, but it eventually came back (to name but one example). [...] I think its now become a bit of a game for the band. People keep harassing them to play it, so now they are playing along and withholding the goods. Who knows? Maybe they actually will play it. Maybe not this tour."
If only that person knew: Just a nine days after that post, on May 25, 2006, Pearl Jam played "Leash" for the first time since April 11, 1994. (In an twist that perhaps wasn't all that coincidental, both the 1994 and 2006 performances of "Leash" occurred in Boston.)
Fortunately for fans, "Leash" hasn't been filed away into the archives; the band has performed the song more than 30 times since May 25, 2006, including at this 2010 concert in New York's Madison Square Garden:
All of which is to say, happy 20th anniversary to Pearl Jam's "Vs." and to "Leash," the Moby Dick of Pearl Jam live songs from 1994 to 2006. Delight in your youth by watching the band perform "Leash" at the Pinkpop Festival on June 8, 1992 in the video below. Pearl Jam's new album, "Lightning Bolt," is out now.
BEFORE YOU GO
PHOTO GALLERY
Pearl Jam Photos