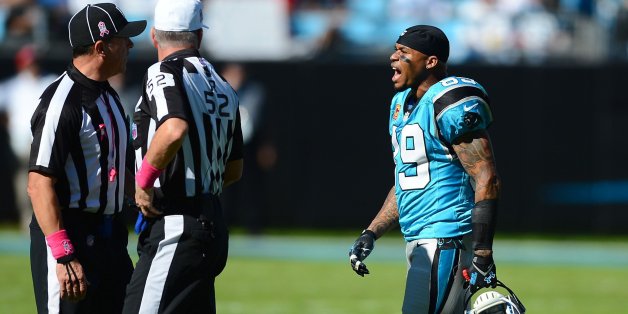 Panthers receiver Steve Smith had some words for Rams cornerback Janoris Jenkins after a heated game at Bank of America Stadium on Sunday. The veteran wideout accused Jenkins of trash talking about his wife and said he wouldn't hold back if he saw him away from the football field.
"What I don't like is a young guy, comes in, obviously his first time ever using the Internet and Google, and he Googles information about me, talks about my wife and stuff like that. That's kind of some of the (B.S). I just don't play with," Smith said, via the Charlotte Observer. "When you try to take it personal like that, I don't have any great humbling things to say. So he can take his (butt) back to St. Louis and watch the expletive) film because I don't play them games. And if I see him in the streets I'm going to bust him in his (expletive) mouth."
Smith caught five passes for 69 yards and a touchdown, which came late in the third quarter to give Carolina a 27-12 lead. When asked about his touchdown celebration, Smith said it was all about rubbing it in.
"When you embarrass people you rub it in their face. When your dog pisses on the carpet you rub it in his face," Smith said.
There were 15 penalties total for 127 yards in the game, including one that resulted in the ejection of Rams defensive lineman Chris Long. Carolina beat St. Louis, 30-15.
BEFORE YOU GO
PHOTO GALLERY
PHOTOS: NFL Week 7